Let us guess, they're Muslims. Regardless of how Finland is off the international jihad's radar screen, the potential for terrorist activity is real, all you need are a handful of nut-jobs and there you have it. KGS
Quoting police sources, Saturday's edition of the tabloid Ilta Sanomat claims the two persons suspected of terrorist related crimes are a man and woman of Somali background. The National Bureau of Investigation (NBI), however, has not confirmed the paper's claim to YLE. Neither did the police give details of the ethnic background of the two suspects at a press conference held on Saturday. The paper also said the suspects were not planning an attack in Finland.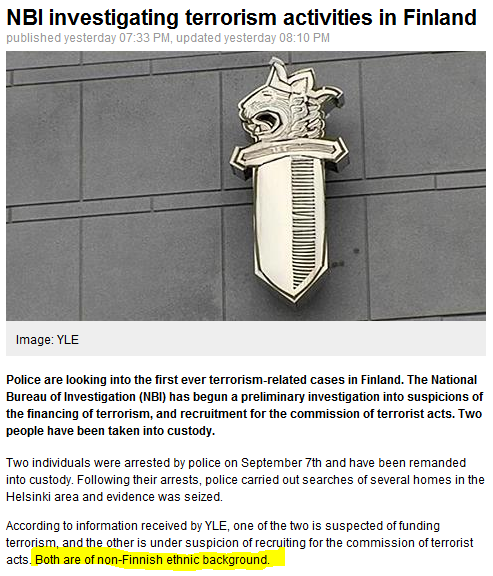 The start of the formal investigation followed a long period of intelligence gathering carried out by the Finnish Security Intelligence Service (Supo). Responsibility for the case was shifted to the National Bureau of Investigation in May of this year. The arrests and searches were carried out as joint NB-SUPO operations and a joint team is continuing investigations.

According to YLE's information, two prosecutors from the Office of the State Prosecutor have already been named to handle the case. The maximum sentence for the possible charges is eight years imprisonment.