BWHAHAHAHAHA!
Everything this president and his socialist pals touch, turns to crap. Green jobs are nothing more than a scam, a pilfering of the public purse strings at a time when normal scandalous behavior by politicians is not such a good idea. I hear the distant sound of more anti-dem votes dropping into the vote box. KGS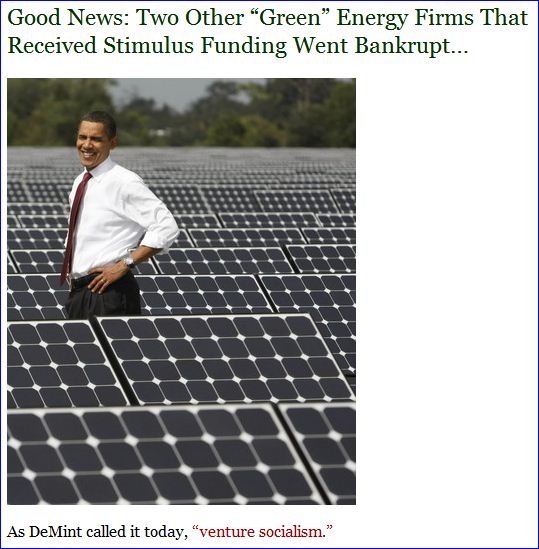 VIA WEASEL ZIPPERS
(Fox News) — Solyndra, the solar panel company whose highly publicized failure and consequent investigation by federal authorities has flashed across headlines recently, isn't the only business to go belly up after benefiting from a piece of the $800 billion economic stimulus package passed in 2009.
At least four other companies have received stimulus funding only to later file for bankruptcy, and two of those were working on alternative energy.
Evergreen Solar Inc., indirectly received $5.3 million through a state grant to open a $450 million facility in 2007 that employed roughly 800 people. The company, once a rock star in the solar industry, filed for bankruptcy protection last month, saying it couldn't compete with Chinese rivals without reorganizing. The company intends to focus on building up its manufacturing facility in China.
SpectraWatt, based in Hopewell Junction, N.Y., is also a solar cell company that was spun out of Intel in 2008. In June 2009, SpectraWatt received a $500,000 grant from the National Renewable Energy Laboratory as part of the stimulus package. SpectraWatt was one of 13 companies to receive the money to help develop ways to improve solar cells without changing current manufacturing processes.
The company filed for bankruptcy last month, saying it could not compete with its Chinese competitors, which receive "considerable government and financial support."
On Tuesday, Deputy Secretary of Energy Daniel Poneman wrote an editorial for "USA Today" in which he blamed China in part for the failure of U.S. solar energy manufacturers to compete.