The bellicose statements continue as Erdogan spreads his Islamo-cheer in Tunisia. KGS
'Warships could be in E. Mediterranean at any moment'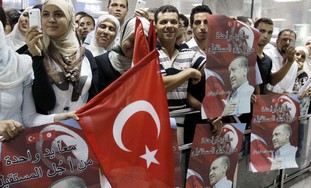 ANKARA – Turkish Prime Minister Tayyip Erdoğan said on Thursday Israel could not do whatever it wanted in the Eastern Mediterranean and that Turkish warships could be there at any moment.
"Israel cannot do whatever it wants in the eastern Mediterranean. They will see what our decisions will be on this subject. Our navy attack ships can be there at any moment," Erdoğan told a news conference on a visit to the Tunisian capital.
Erdoğan was in Tunisia as part of a so-called Arab Spring tour of Egypt, Tunisia, and Libya, three nations that saw their long-time leaders deposed within the last number of months.
Last week, Erdoğan said Turkish warships will escort any Turkish aid vessels to Palestinians in the Gaza Strip.
Erdogan also said that Turkey had taken steps to stop Israel from unilaterally exploiting natural resources from the eastern Mediterranean, according to Al Jazeera's Arabic translation of excerpts of the interview, which was conducted in Turkish.