Oh you mean like head decapitations and the like? They're all barbarians. KGS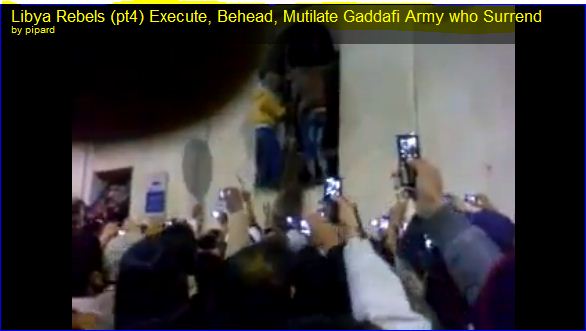 'Libyan rebels guilty of committing war crimes'
By REUTERS
09/13/2011 09:26
Amnesty International reports both pro and anti Gaddafi forces guilty of human rights abuses, urges NTC to launch investigation.
LONDON – Forces on both sides of the Libyan war have committed war crimes and the country risks descending into a bloody cycle of attacks and reprisals unless order can be established, human rights group Amnesty International said on Tuesday.
Muammar Gaddafi's attacks on civilian protesters were a crime against humanity, while arbitrary detentions, torture of prisoners and widespread abductions were war crimes, the London-based charity said in a report.
Amnesty also criticized Libya's opposition forces and said Gaddafi's fall from power after 42 years had left a "security and institutional vacuum" that they exploited to carry out revenge killings and torture.