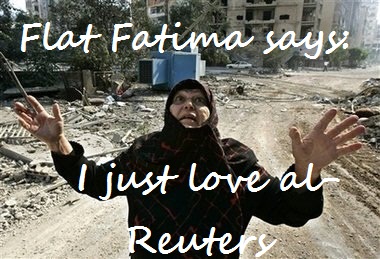 Many of you probably wonder why the Tundra Tabloids places an "al-" in front of Reuters when publishing a post that features their articles. It's a way of highlighting their arabist stance, or perspective when reporting on anything remotely connected with Israel. In short, they've earned the right to be labelled al-Reuters for the lousy journalism that they do on the Arabs' behalf.
Arabs to push for Palestinian statehood bid

CAIRO | Mon Sep 12, 2011 5:41pm EDT
(Reuters) – Arab states will push for a fully-fledged Palestinian state at the United Nations next week, the Qatari prime minister said on Monday, despite a U.S. threat to block such a move.

Earlier on Monday, EU foreign policy chief Catherine Ashton, who is in Cairo for talks with officials at an Arab foreign ministers' meeting on the Palestinian U.N. bid, said the European Union has still not decided on a united position yet.

The Palestinians decided to seek United Nations recognition of statehood after years of negotiations with Israel failed to deliver the independent state they want to establish in the West Bank, the Gaza Strip and East Jerusalem — areas occupied by Israel in the 1967 Middle East War.
The al-Reuters article bears no resemblance to the truth, it's pure Arab propaganda that could have been drafted in Ramallah or in Gaza city. Who knows, perhaps it was. Lacking in the story is any mention of the fact that the Arabs were offered around 95% of ancient Jewish lands in Judea and Samaria (called the WB) and in Gaza, with the latter having been completely turned over to them in 2005.
They (the Arabs) rejected repeated offers by the Israelis, something of which, Saudi Prince Bandar bin Sultan, who was involved in the negotiations at the time, deemed Arafat's rejection of the peace offer to be a 'criminal' act.
In payment for handing the whole of Gaza over and the dismantling of a handful of settlements in the Disputed Territories of Judea and Samaria, the Israelis received daily barrages of rocket fire from the Hamas run enclave. Al-Reuters is a despicable wire-news service and responsible in large measure for the mishandling of information that's spread in news stations around the globe. KGS