And this guy is a former UN apparatchik, who adores UN resolutions.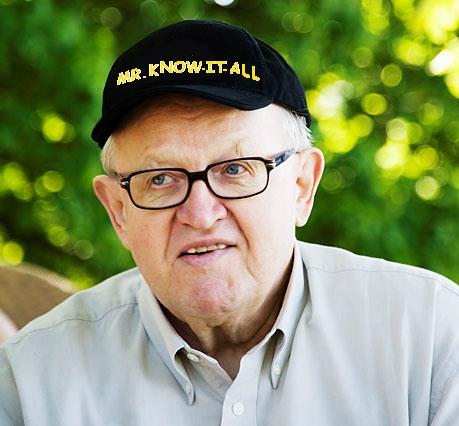 Anyone who really understands the Middle East situation, knows for a fact that ending the Palestinians' war against the Jewish state will not end the jihad against either Israel nor the West. The logic behind "solving the Palestinian conflict first and all else will follow" meme, rests upon the false assumption that Muslim leaders actually care about a Palestinian state.
They all hate Israel, but they certainly don't care for the Palestinians nor their state, and the Islamic clerics advising the Hamas from abroad, certainly do not want to see a permanent peace settlement reached between the two sides. So in the event of a Pali state coming into existence, the war would continue nonetheless, for the Palestinians have not given up on having it all and there is no Arab pressure on them to do so.
Former Finnish president Martti Ahtisaari is behind the recent push in Finnish politics to get Finland on the map in the "peace solving racket". It's one of the reasons why Ahtisaari founded Crisis Management Initiative, an international "solution solving" foundation, whose Middle East dept. is headed by none other than, Heidi Huuhatanen, former analyst at the Finnish Institute of International Affairs (UPI).
The Tundra Tabloids had discussed with her -while she was still at the UPI- concerning the idea of negotiating with the Hamas, and her parting shot to the very long discussion (the TT was against it) was that "we'll just have to try it and see what comes of it."
This is the caliber of M-E analysts Ahtisaari has advising him, who -if I recall correctly-labeled the leadership of Hamas as……..pragmatic. It's mind numbing to see the type of mediocrity that gets top pay in these institutions. There simply isn't any sound logic to back up Heidi Huuhtanen's analysis that Hamas can be dealt with as a rational player.
So Ahtisaari's call for the recognition of a Pali state will produce the exact opposite of his desired intentions, that being, peace between the two sides. Both Hamas and Fattah are no where near ending their dreams of destroying Israel, and who will no doubt, be emboldened to continue using the same methods they've used for decades -of instigating terror, absorbing reprisals and then fanning the flames of anti-Israel hatred throughout the international community, who by the way, refuse to hold them accountable for any of their actions. It's worked thus far, so why change course? KGS
Ahtisaari calls for EU support 
the Palestinian state now
Published September 10, 2011 at. 11:00. Last modified September 10, 2011 at.14:24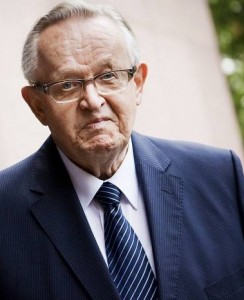 President Martti Ahtisaari stresses that by using only military targets, you can not put an end to terrorism.
– If you want the terrorism to stop Palestinian issue must be resolved, he said in an interview for Vasabladet and Ostrobothnia Newspaper. He will discuss the world situation ten years after the terrorist attacks in New York on 11 September.
– Palestinian issue is used by all as an excuse, quite regardless of which view you have.
As President of the European Council on Foreign Relations, Ahtisaari has done his utmost to get as many EU countries as possible to back up the Arab countries' proposal for an independent Palestinian state. It is expected to be the main issue when the United Nations General Assembly will start on 20 September.
– Also for Israel to maintain its security must be resolved the matter, said Ahtisaari.
He refers to a much-publicized speech that U.S. President Barack Obama held two years ago in Cairo. Obama was very clear when he said that peace in the Middle East requires two independent states, one Israeli and one Palestinian. Since the peace plan has not advanced since then, is nevertheless expected the U.S. along with Israel vote against the General Assembly.
Nobel laureate Ahtisaari, is involved in several projects in the Middle East and in other continents which aims to offer young people education.
– Young people under 25 who have no future there in quantities. They are very easy to be recruited by criminal groups or terrorist organizations. Our responsibility is great because we know that matter can be addressed, says the tireless Finnish player on the world stage.
H/T Daniel