Crunch time for Erdogan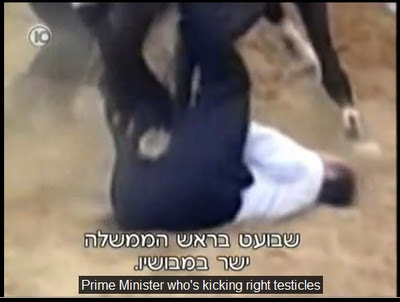 The Turkish regime now says that their Prime Minister, Recep Tayyip Erdogan, was misquoted in the al-Jazeera article, which was clearly being understood as  a direct threat against the Jewish state of Israel. The Turks now backtrack a bit and state the following, which according to the TT, basically amounts to the very same thing, a direct ultimatum to the Israelis, if you try to stop any ship or boat sailing under the Turkish flag headed for Gaza to deliver aid, we will provide a naval escort.
Here's the 'corrected' statement that was supposedly misquoted:
"As long as Israel does not interfere in the freedom of navigation, we do not plan on sending any warships to escort humanitarian-aid ships," the official was quoted as saying.

"The misquoted remarks suggest that we have been readying to provide a warship to escort each humanitarian aid ship. This is not the case. However, Turkey will protect its citizens' rights in the event of any interference in international waters."
But the Israelis floated a rather interesting statement of their own that exposes the hypocrisy of the Turks who are fighting a somewhat similar situation as the Israelis, Kurdish terrorism at the hands of the PKK.
Also on Saturday night, Foreign Minister Avigdor Lieberman said in a Channel 2 interview that there was no Israeli proposal on the agenda to help or have contact with the PKK Kurdish militant organization.

Lieberman was referring to a story in Yediot Aharonot on Friday that this was one of the steps the government was discussing as a response to threats from Ankara.
You can take it to the bank that the Netanyahu government quietly floated that one to the media for the sake of jarring Ankara, that two can play this game if need be. The Turks may have blinked first here, but the situation is far from being resolved. KGS