"The full intellectual power of the left strikes again!" Brian of London
After a debate with the brother of Tariq Ramadan's brother Hani, Oskar Freysinger gets nailed with a pie in the face by a disgruntled student who obviously disagreed with the member of the Swiss People's Party concerning Islam. It was an act of thuggery, representative of the mentalities that love to rule by force and decree, Leftism and Islam.
The only point that the TT would be in disagreement with Freysinger, is of the act of pie throwing supposedly "belonging to democracy", far from it. It's an act of political violence, of intimidation, which runs counter to the ethic of political disagreements in a democracy being handled through public debate and at the voting booth.
Lets face some facts here, the Left is known for such antics, almost holding exclusive rights to them, like the throwing of pies in the faces of people with whom they disagree, tossing paint on people wearing furs, as well as Muslims throwing feces and urine at demonstrations. This is how the totalitarian mindset operates, because they can't hope to win an argument, so they have to intimidate their opposition. It's all pure thuggery. KGS
Via: Sheik Yer'Mami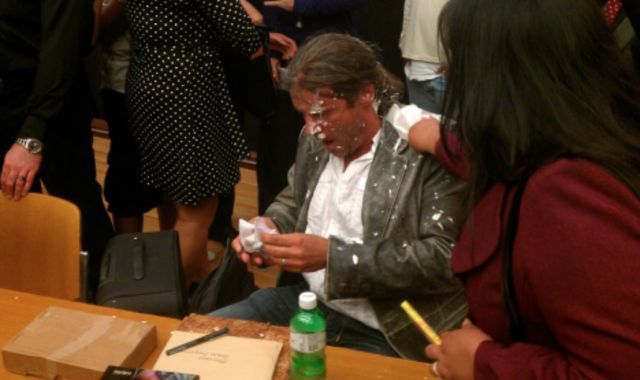 Student throws pie in Freysinger's face
Updated 09/06/2011
Basler Zeitung:The Valais SVP politicians debated at the University of Geneva on the fight against terrorism. At the panel meeting, he himself became the target of attack.
[…] The verbal sparring between Islam critic Freysinger and moderate Islam researcher Ramadan proceeded in an orderly fashion: Freysinger criticized sharia and talked about creeping Islamization, which in his opinion, takes the upper hand in European societies. On the other hand, Ramadan urged the variety of interpretations of Muslim religion and condemned the sweeping view of the SVP. The two rivals had been in a very polite discussion with each other, the newspaper said.
Pie throwing a political freedom?
The attack occurred after the actual debate was already closed. One of the students in attendance – apparently not an advocate of Freysinger's line of argument – tossed a pie in the direction of the SVP politician. Freysinger was hit in the face, his jacket was spattered with whipped cream. The student was then taken by security forces and led from the room.
Freysinger commented to Swiss radio RSR that nothing like this has ever happened to him before. Freysinger was angry, "The person throwing this pie could have at least refrained from poking his finger into my eye." If I am afraid of these things, I will leave politics right away. Later he modified his statement, saying that throwing a pie is part of democracy.
NOTE: Special thanks to ESW for helping with some of the translation.