Al-Qaida is thought to be behind the blast. KGS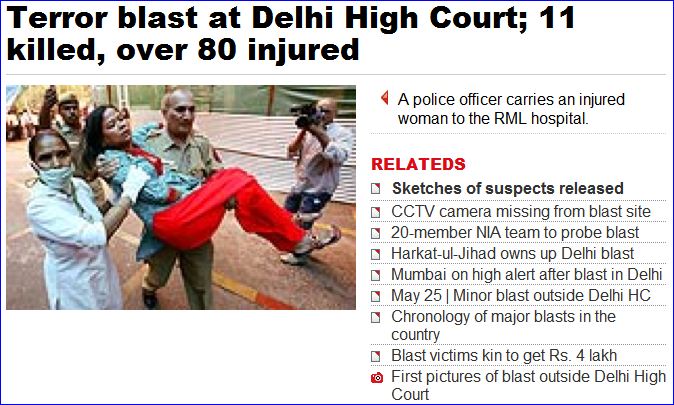 Terror struck Delhi when a powerful bomb placed in a briefcase ripped through a crowded reception area at the entrance of the Delhi High Court on Wednesday morning, killing 11 people and leaving more than 80 injured. This is the second blast outside Delhi HC since May.
The blast occurred around 10:15 am outside Gate Number 5 close to the reception area where visitors had lined up for entry passes.
A group by the name Harkat-ul-Jihad claimed responsibility for the blast. The mail claimed that the blast was carried out to demand repeal of death sentence of Afzal Guru, a condemned prisoner in 2001 Parliament attack.
Delhi Police has now confirmed to Headlines Today that ammonium nitrate inside an improvised explosive device (IED) was used in the blast. An eyewitness told Headlines Today that he saw a man planting the briefcase and fleeing from the spot, moments before the blast.
Sources in the MHA indicate that traces of powerful explosive PETN have been traced at the blast site.
NIA and forensic teams have already reached the spot. The injured have been taken to Ram Manohar Lohia, Safdarjung and AIIMS hospitals.
On May 25, a low-intensity explosive went off near Gate Number 7 of the Delhi High Court. Experts believe the May 25 attack may have been a dry run for a bigger attack.
Home Minister P. Chidambaram said the blast was of "high intensity" and called it a "terrorist attack". The blast also left a 3-4 feet crater at the site of the explosion. Chidambaram said it was not possible to identify the group behind the attack.
Union Home Ministry sources said the death toll has risen to 11. Sixty-five persons were injured out of whom 15 are in a serious condition, the sources said.