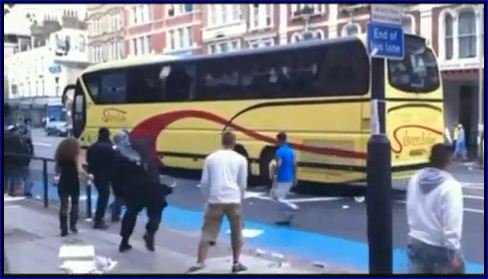 This a hands on account of what exactly took place last Saturday (3.9.2011) during a bus ride of EDL members leaving the demonstration at Tower Hamlets. They were viciously attacked, then arrested for being attacked by around 1000 screaming Muslims. KGS
NOTE: You better believe that the local police have seen the video tapes from the street surveillance cameras in the area. They're sitting on them.
H/T: Brian of London
44 EDL pulled out of a crowd of 1000 attacking Muslims by police and then arrested for being there
Nottm_patriot: First off I'd like to make clear this is the events that took place on 03/09/11 and 04/09/11 are reported as viewed through my eyes, the coach had 45 people on it and some events may be viewed differently and/or some events were not witnessed by myself – i must also point out 'all' of the persons on the coach excluding Jo and the driver have been arrested and bailed so certain points i will not go into detail as this could harm investigations that are currently ongoing.
Ill start from the point of pick up on Tooley Street as our driver did not go to the designated parking that i told him to this lead to us traveling back as a lone coach instead of with other coaches heading north/M1, i don't know London so i took my seat at the back of the coach and left the driver to take us home.
We must have been 20/30mins into the journey when we pulled up in traffic instantly we are all aware that we were in fact outside of a mosque on our right hand side(this has later been identified as east end mosque) – outside the mosque were about 40/50 Muslim men of all ages who recognised that we were EDL (on the travel in, we took the advice of no colours and flags but an anti sharia banner was taken from the demo and was put up in the coach window on the side of the mosque on the journey home, i was not aware of this until after) and instantly began shouting and banging the coach and in what seemed like seconds a window was broken on the left hand side, the driver then pulled away as the traffic moved but we were again stopped in less then 100yds and at this point we were surrounded by more 'muslims' this time from shops with the others running up from the mosque – now more windows were smashed and objects were entering through the open windows.
The driver then was able to drive away and we covered a much further distance before having to stop again – in this time i did a check on the passengers seeing who was injured only then was i made aware that Jo a female on our coach was not there – personally i was shocked and this must be a mistake and checked the toilets asked everyone to check the floor(fuck i even checked the roof…) but we couldn't find her, her friend telephoned her and she said she was the other side of the mosque from us and had been attacked – at this point i asked everyone to stay on the coach and drive further up the road and i would go back for Jo – and i left the coach and moved down towards the mosque but even at this point more Muslims were gathering from the surrounding area – and it became clear the only option we had was to try and break through so i returned to the coach for more lads and we headed down towards the mosque – At this point i cannot include anymore information about the events as we have a ongoing police investigation against those that left the coach to rescue Jo, except to say that we were eventually forced back towards the coach by heavy numbers and unable to get to Jo.
Once we were back on the coach the driver informed us that the clutch was burned out and unable to move,we were sitting ducks and that's when we were encircled with a estimated 1000 strong muslim group – video/images have been taken by ourselves and will be released – this onslaught continued for 5mins(it seemed like a lot longer) until what we believe was 150 riot police attended and pushed the Muslim group back.
A double decker bus was then sent to pick us up and we were moved onto it it then took at least 15mins to exit the area while still having objects thrown at us as the group of Muslims tried to block our exit with with bins, rubbish and even a sit down to block the road.
Once we were clear of the area(this is later explained to us as Tower Hamlets) that's when the bizarre events took place with us being escorted all over London for about 2hrs under blue lights by what looked like 15 police vehicles till we eventually arrested and placed in cells – Now im no legal student but it seems very strange that persons that have been attacked (for some this has been a very traumatic experience) arenot counselled and asked to give a statement but instead are left to sit in cells for over 24hrs
Every person on the Coach was detained and interviewed and released on conditional bail while further investigations took place – At the point of writing this i believe that no Muslims were arrested over this incident.
Id like to personally thank the Met police for there swift response because i do believe if they would have been 5 minutes later we all would not have been here to tell the tale and also to everyone who supported us like Tommy & Kev, Tony Curtis and Tracie and everyone who helped to get the division home including Craig Leicester and Shaggy who traveled down to pick up the last 3.
My thanks extend to those that left the coach to rescue Jo every individual directly risked there life for a fellow EDL member and as such should be credited not perscicuted.
NSFE
Richard Nottingham