It will be interesting to hear whether disgruntled Muslims torched their own mosque, or a 'rivals' mosque, as opposed to Jews sneaking near Nablus to set a mosque on fire, knowing full well that the odds of completing the deed and getting out of there alive are extremely bad. Anything is possible though, but until the layers of this onion are peeled far back, the TT isn't rushing to any sudden conclusions.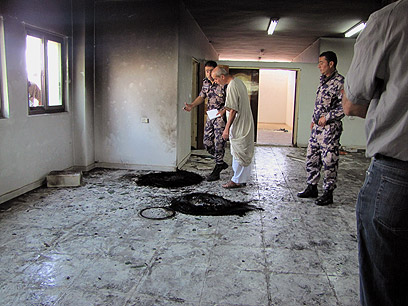 Mosque torched near Nablus
In what looks like a retaliation for razing at Migron outpost, Palestinians say first floor of compound set on fire with tires, windows smashed and slogans in Hebrew spray-painted on fence
'Price tag' operation in retaliation for the razing of structures at Migron outpost? Palestinian sources told Ynet on Monday morning that the first floor of a mosque in the village of Kusra, south of Nablus, had been torched.
According to the Palestinians, the fire broke out after unknown assailants shattered the windows of the compound and set tires on fire inside the mosque. The slogan "Alei Ayin and Migron – Social Justice" was spray-painted in Hebrew on the fence outside.