Due to the Turkish regime's present political stance, Israel knows where Turkey sits, a head and shoulder beneath the Jewish state. KGS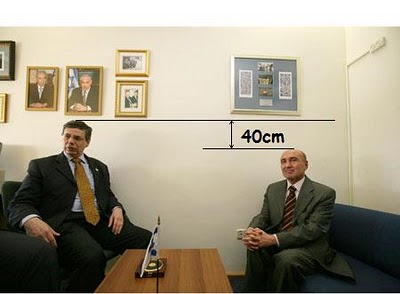 BREITBART: Turkey expelled the Israeli ambassador to Ankara Friday and suspended all military ties with its one-time ally after a UN report slammed the "excessive" force used in a raid on the Gaza flotilla.
Israel, unfazed by Turkey downgrading ties, won't apologize
By HERB KEINON
09/02/2011 17:22
Senior gov't official says that Israel hopes a "way can be found to overcome the disagreements" with Ankara, but adds no apology will be issued "for actions of self defense taken by soldiers."
Despite Turkey's decision to downgrade diplomatic ties with Israel and freeze all military agreements, a senior government official said Friday afternoon Israel would not apologize to Turkey over the Mavi Marmara incident.
The official said that as recommended by the Palmer Commission report, presented to UN Secretary General Ban Ki-moon on Friday, Israel "again expresses its regret for the loss of life, but will not apologize for actions of self defense taken by its soldiers."
"Israel, like all nations, has the legitimate right to defend its civilians and soldiers," the official said.
The official said that Israel understood the importance of "the historic relations" between the "Jewish and Turkish people. In light of that, Israel made many efforts in recent months to solve the conflict between the countries, but these did not succeed."
The official said that Israel hoped a "way would be found to overcome the disagreements, and will work toward that aim."
NOTE: The relations between the two took its first real dive when the president of Israel, Shimon Peres, read the Hamas charter to Recep Erdogan at the Davos conference in Geneva, the section he read came straight from a well known hadith. Erdogan has been pissed off at the Israelis ever since, that a Jew, dare to upbraid a Muslim by quoting a Muslim text.