That's what many in the highly corrupted UN General Assembly would like to institute straight away, yet another Arab state that loathes the Jews. KGS
H/T: Dennis Mitzner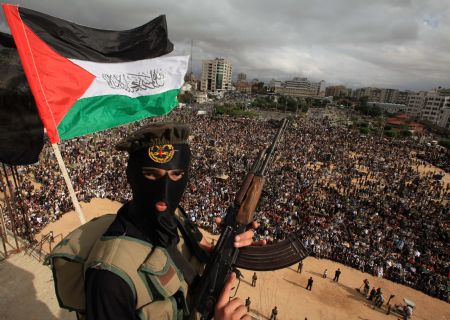 The republic of anti-Israel
BY DAVID WARREN, OTTAWA CITIZEN AUGUST 31, 2011
We are waiting patiently, as the fuse burns down on another Middle Eastern powder keg. On Sept. 20, as the next United Nations session opens, Mahmoud Abbas will present a declaration of statehood to the General Assembly, on behalf of the Palestinians of Gaza and the West Bank. Though unilateral, it will be welcomed by a voting majority which includes all the dictatorships of the Muslim world and Africa.
Full membership in the UN requires the sanction of the Security Council, where there is an American veto. That will almost certainly be exercised, even by the Obama administration. But for all practical purposes, the Palestinian Authority has been a member for a long time, and been behaving as a state. It has the ultimate hallmark of a state, for it conducts its own foreign policy, freely.
We live, I have argued, in a "postmodern" time, under post-modern conditions, including those created by post-modern wars and diplomacy. The difference between "de facto" and "de jure" has been lost. This may have seemed "academic" even to many in the past; and it could be said that the whole history of the nation state is de facto becoming de jure. But the attempt to preserve certain legal niceties was responsible for a great deal of peace and order. Even tyrants hesitated to cross taboo lines, in the days when those lines were enforced.
The Palestinians, so far as they are a people, have now a long history of being able to do things without consequences. (They are not ethnically distinct from neighbouring Arabs, but defined by family ties to a given location.) Under the direction of a succession of "reformed" or unreformed terrorist leaders, from the Mufti of Jerusalem to Yasser Arafat to Hamas, they have "evolved" a polity which may itself be defined as "the Anti-Israel."
Israel is consistently held to account, both internally and externally, as an old-fashioned, formal nation state. When the Israelis respond to rocket attacks from Gaza, they are compelled to justify their action. But the people who sent the rockets are not. And supposing them to have been launched "freelance" by independent terror cells, the authority which governs Gaza is not held gravely responsible for having failed to stop them.
Imagine what the consequences would be, if Israeli citizens, acting independently, began lobbing missiles into the Palestinian territories, gratuitously at targets both civilian and military – whatever happened to be in range. And then, the Israeli authorities made no gesture to stop them. The diplomats of the world would spit up their sherry. Our peace-loving politicians would go berserk.