The money quote: 
" I wonder if Norwegian authorities would be willing to sit down and talk to Breivik's accomplices, if such do exist, or whether they would be willing to accept land for peace in order to dissuade terrorists from future attacks on innocent Norwegian youths. I don't think the authorities in Norway would even contemplate such a scenario. So why is Mr Sevje suggesting that the Israelis should have to do so?"
Thanks to the Gates of Vienna for publishing the latest piece in a three part series on the Left in Norway. It's an excellent read. His Part I in the series can be found here. KGS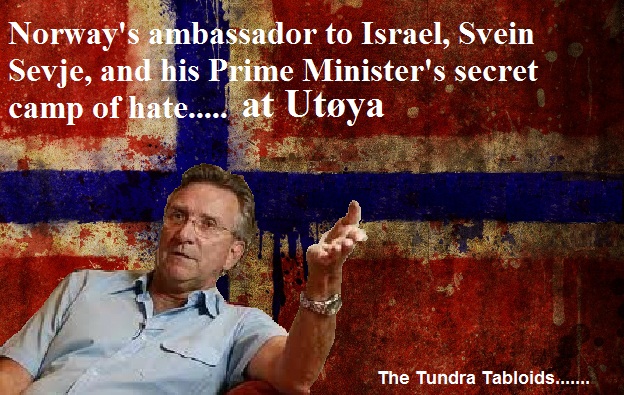 The terrorist supporters of the Left 
by The Observer
This is the second essay in a three-part series in which I take a look at left-wing media bias in Norway, the Norwegian Left's fraternizing with militant organizations abroad, and undemocratic elements within the Muslim community in Norway.
In the first instalment, 'Left-wing media bias in Norway', I looked at the Left's stranglehold on the MSM in Norway, and how this stranglehold manifested itself in the wake of the terrorist attacks in Oslo on July 22, 2011. I also showed how the MSM tried to implicate parts of the conservative community in Norway for having emotionally contributed to these attacks.
In this essay I will take a critical look at the political Left in Norway and show that numerous individuals and organizations on the Left side of the political scale sympathize with terrorist organizations. I will also give examples of the Left's eagerness to turn a blind eye to forces which engage in anti-democratic behaviour inside Norway.
The terrorist attacks in Oslo on July 22, 2011, were the biggest assault on Norwegian society since WW2. Needless to say, they had a huge impact on the national psyche. The left-wing community in Norway immediately demanded that conservative forces in Norway, and the Progress Party in particular, re-evaluate their political views on immigration and multi-culture, and distance themselves from what the Left labelled Muslim-hatred, once it was established that the perpetrator was a Norwegian non-Muslim ethnic male.
The Left claimed that these groups had paved the way for the atrocity. This massive broadside attack on the conservative community in Norway was wholeheartedly supported by the MSM, and it even had a distinct effect on political opinion polls that were carried out in the aftermath of the attacks. One of the consequences of this massive smear campaign was a significant drop in the support for the Progress Party which saw its support plummet to a mere 12 percent. At the same time the support for the Labour Party soared to well over 40 percent. This of course has political implications, as 2011 is an election year in Norway, and the political campaigning has started.