This is to be looked at in the same way as Muslim females wearing 'burkinis' in public swimming pools, they couldn't care less that their clothes are carrying harmful bacteria, anymore than a head scarf getting caught on a park ride. It's all about Islam, not people, especially the non-Muslim. KGS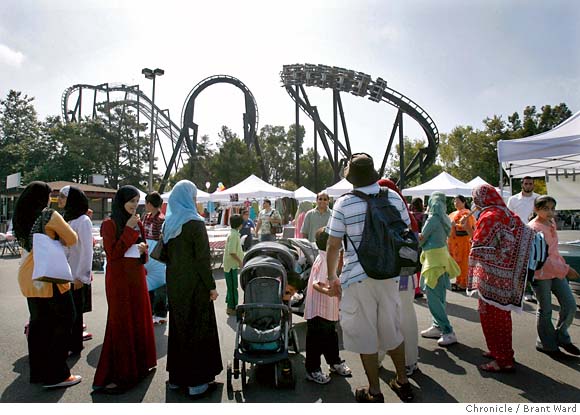 "Tartaglia said once word of that got out there were "a lot of unhappy people."
Police arrest 15 at Playland in dispute over Muslim headwear
RYE — A melee broke out Tuesday afternoon at Playland Amusement Park when Muslim visitors became angry that the park was enforcing its ban on headgear by prohibiting the women from wearing their traditional head coverings on some rides.
Police from at least nine agencies converged on the park beginning at 3 p.m. after county police sought assistance in responding to the disturbance, which involved 30 to 40 people.
Two rangers were injured while breaking up a fight between visitors, and two visitors were charged with felony assault, police said. Another 13 people were arrested, most charged with disorderly conduct. Names were not disclosed, and all those charged were released by Tuesday night.
One of the rangers suffered an injured knee and the other an injured shoulder, said Deputy Parks Commissioner Peter Tartaglia.
The park was crowded with Muslims celebrating Eid-ul-Fitr, one of Islam's two major holidays. Most were from community groups in Westchester and New York City as part of a daylong event arranged by the Muslim American Society of New York.
"It's unfortunate because everybody just wants to be home with their families today," said Zead Ramadan of the Council on American Islamic Relations.
Parks officials "painstakingly" told the organizer about the headgear ban, said Tartaglia. But he said that the rules might not have been communicated by the organizer to some attendees.
Three accidents on Playland rides that killed two children and a park worker between 2004 and 2007 were unrelated to clothing the victims were wearing. But the headgear ban was among safety rules that went into effect after those deaths.
"It's a safety issue on rides. If it's a scarf, you could choke," Tartaglia said.
Accounts of what happened varied, but everyone agreed the dispute began after parkgoers were told the headgear ban applied to women wearing traditional Muslim head coverings, known as hijabs.