Just to put things into proper perspective, the rabble that's howling for Gaddifi's blood, are as bloodthirsty as the tyrant himself. They brutally murder their captives, by disemboweling, beheading and mutilating them. They're no different. The spirit of the French revolution (brutish mobs) is at the heart of this revolution. What takes its place will be as ugly as what it replaced. KGS
NOTE: Question: Any idea what will become of these two mercenaries? Answer: They'll be mowed down like the people found in the burned out warehouse.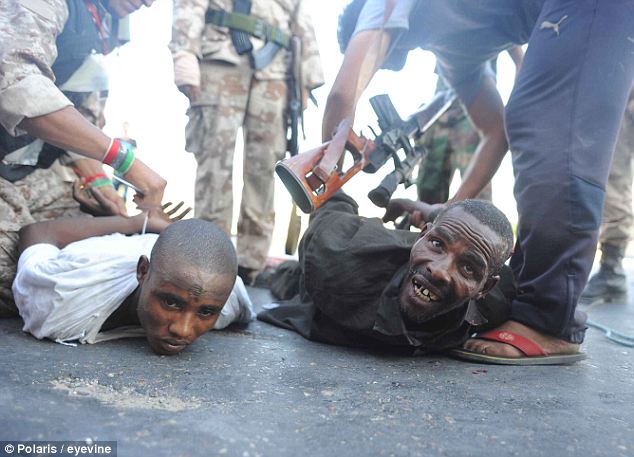 Horror of 150 bodies found on a farm after been massacred by pro-Gaddafi forces
By DAMIEN GAYLE and BARBARA JONES
Last updated at 11:31 PM on 27th August 2011
The bodies of up to 150 Libyan civilians were found yesterday near Tripoli after allegedly being massacred by pro-Gaddafi forces.
Journalists said they counted as many as 53 executed bodies in a burnt-out farm warehouse near the Khamis military base where the murders are thought to have taken place last Tuesday and Wednesday.
The bodies of two soldiers were found with their hands tied behind their backs. Locals believe they refused to fire on the people being held inside the warehouse, and were then murdered.