As the Tundra Tabloids has reported for months, al-Qaida terrorists are mixed in tightly with the rabble of rebels fighting the Gaddafi regime. The rebel regime isn't going to turn into a Jeffersonian democratic government. As the fighting subsides against Gaddafi's fighters, the infighting will then erupt from within the rebel coalition, and just you wait and see, the al-Qaida jihadis will be there in the thick of it fighting for the top spot. KGS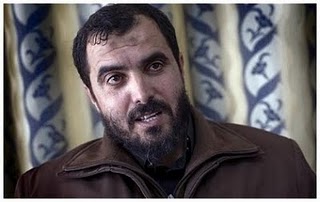 RPT-Senior Islamist rebel is veteran Gaddafi foe
Sat Aug 27, 2011 7:31pm GMT Print | Single Page [-] Text [+]
* Islamist rebel has long record of opposing Gaddafi
* Belhadj once spent time with Qaeda leaders
* Rebel once negotiated reconciliation with Gaddafi
By William Maclean
LONDON, Aug 26 (Reuters) – A senior Islamist rebel reported to have helped depose Muammar Gaddafi is a skilled guerrilla leader and veteran dissident who led a failed revolt in Libya in the 1990s and once spent time with al Qaeda leaders in Afghanistan, security experts say.
Abdel Hakim Belhadj, reported by Arab media to have been prominent in the assault on Tripoli, helps lead an Islamist group that has fought in close cooperation with the main rebel National Transitional Council (NTC), analysts say.
The Libyan Islamic Movement for Change (Al-Haraka Al-Islamiya Al Libiya Lit-Tahghir), is made up of former members of the now defunct Libyan Islamic Fighting Group (LIFG) that once plotted against Gaddafi from Taliban-ruled Afghanistan.
Belhadj, in his late 40s and also known as Abu Abdullah al-Sadeq, is a highly skilled leader, said Noman Benotman, a former associate and fellow LIFG commander.