Folks, that's the way they treat each other. The TT has published both videos and photos of the rabble rebels systematically murdering and dismembering captured members of Gaddafi's armed forces and hired help. This is classic Alien Vs. Predator mentality being exhibited by both sides, who couldn't care less about the humanity of the other. KGS
Tripoli hospital horror as patients die untreated
Aug 26 03:06 PM US/Eastern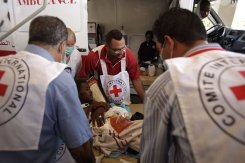 When the 10-year-old boy was shot in the back outside Moamer Kadhafi's compound in the Libyan capital, he could never have imagined the even worse horror that awaited him when he got to hospital.
For days he lay unattended, as the hospital had been commandeered by Kadhafi snipers, most of the medical staff had fled in fear, and people around him died by the scores for lack of treatment.
On Friday, he lay on a stretcher inside an ambulance, one of 17 survivors being evacuated by the Red Cross, in too much pain to talk.
His weeping parents were beside themselves amid the stench of dozens of decomposing bodies.
"My son was wounded outside Bab al-Aziziya, but we didn't know where he had been taken," his father said. "It's the first time I've seen him in five days. But today we have got him back."
However long it might take the boy to recover from his wounds, he is likely to suffer nightmares about his time in the hospital for years to come.
Rebels had swarmed into the capital over the weekend and by Wednesday had seized control of most of Tripoli.
But the hospital is located in the generally pro-Kadhafi neighbourhood of Abu Slim, and loyalist snipers had held it since Saturday.