Golden boy has fled the capital, and wandering about somewhere in his myriad of tunnels planning his comeback against the jihadi rebels. This guy isn't out by a long shot, this is all about bribing tribes, and keeping them loyal through yet even more bribes. Wait and see, the civil war has just turned into a guerrilla war. KGS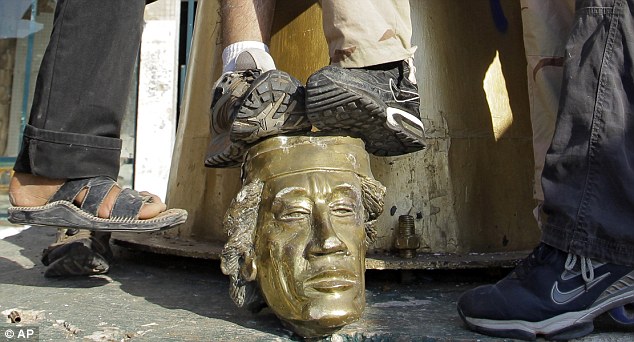 They stamped on a bust of the tyrant's head… we'll get him, the rebels screamed as they stormed Gaddafi's bunker
Rebels also attack symbolic statue of American warplane

Gaddafi in 'death or victory' rant after bunker is stormed


William Hague says these are 'difficult and dangerous days'

Fighters preparing to enter network of tunnels under compound
By VANESSA ALLEN and DAVID WILLIAMS
Last updated at 3:50 AM on 24th August 2011
Colonel Gaddafi last night vowed his fight against the Libyan rebels would end in death or victory, it was reported.
In a desperate attempt to dent the rebels' morale after they had ransacked his compound earlier in the day, he also claimed the withdrawal from his Bab al-Aziziya fortress was a tactical move.
The brief statement was issued by his spokesman to pro-Gaddafi television channel Al-Orouba.