But Gaddafi's minister of propaganda replaced reality and substitutes it with his own!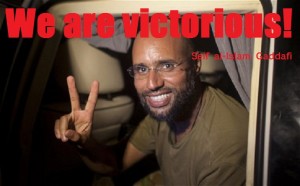 UPDATE: They're now saying that the compound has been captured.
ALSO: Read Where is Gaddafi? He's apparently built for himself a 15 billion dollar maze of tunnels under Tripoli that connects towns and complexes.
Libya rebels breach Gaddafi compound gate -Arabiya
Tue Aug 23, 2011 2:26pm GMT
DUBAI Aug 23 (al-Reuters) – Libyan rebel forces have breached the first gate of Muammar Gaddafi's fortified Bab al-Aziziya compound in Tripoli, Arab news channel Al Arabiya reported on Tuesday.
The rebels, battling forces loyal to Gaddafi, had earlier in the day intensified their attack on the complex in the southern centre of Tripoli, home to Gaddafi's private quarters as well as a military barracks and other installations. (Reporting by Jason Benham; Editing by Angus MacSwan)