Norway's cultural elite are a cesspool of dirty secrets and hatred. This article was published in today's edition of the J'lem Post. KGS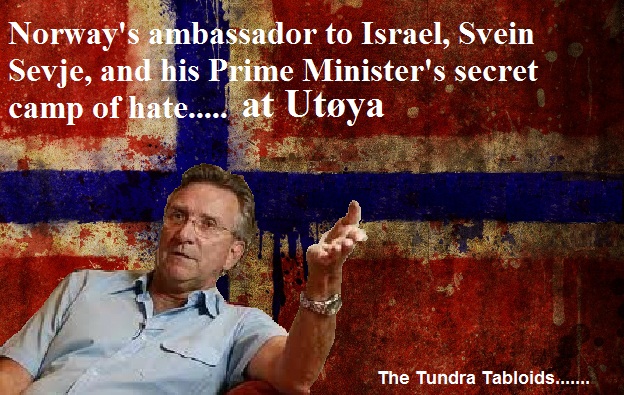 Letter to Editor Jerusalem Post Published on 23 August 2011

THE NORWEGIAN AMBASSADOR AND THE HATE CAMP
In his recent Jerusalem Post op-ed, (Norway is pro-Palestinian — and pro-Israeli," Opinion and Features ) the Norwegian ambassador in Tel Aviv Svein Sevje continues to revise the truth by claiming that his government follows a pro-Israel policy. He should have limited himself to thanking Israel for the outpouring of sympathy for Norway after the despicable murders by Anders Breivik.
This expression of Israeli empathy was all the more impressive since after this tragic incident, hate-mongering directed at Israel by mainstream Norwegian society came again to the fore. Even if the Middle East was only one item on its agenda, the AUF camp at Utoya where Breivik murdered many can be characterized as an anti-Israel hate camp.
More information has since become available regarding how "successful" the demonization of Israel was at Utoya. When Breivik started firing some youngsters thought it was a demonstration of how Israeli soldiers shoot at Palestinian civilians. When I first read this story by German journalist Ulrich Sahm, it seemed unbelievable. I there upon contacted Sahm and he provided me with several sources for his story.
AUF is the youth movement of the Labor Party of Norwegian Prime Minister Jens Stoltenberg. As a young man he also attended the camp at Utoya. Many Labor party ministers come out of AUF. It is now a breeding ground for Israel-haters, some of whom will become prominent in the Labor Party. The Norwegian ambassador might be well advised to keep a low profile at this early stage of his posting otherwise a major political collision could become unavoidable.
Manfred Gerstenfeld
Jerusalem