How much you want to bet Gaddafi ends up in front of some ad-hoc court of some kind and then lined up against the wall with his sons …and shot? KGS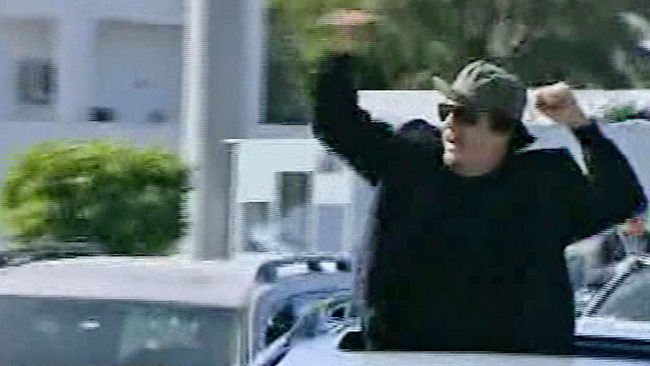 Libyan rebels arrest dictator's sons: 'We'll give Gaddafi safe passage… if he steps down'
Forces claim the city is totally under their control

Thousands gather in Green Square to celebrate, rename it Martyr's Square

Tripoli residents receive congratulatory text messages from rebels


375 people dead with at least 1,000 injuries

Gaddafi says Tripoli 'is now like Baghdad' in latest audio message


Rebels chant 'We are coming for you, frizz-head' as they enter city

Downing Street says 'end is near' for regime

President Obama said Libya is 'slipping from the grasp of a tyrant'
Two of Colonel Gaddafi's sons were today being held by rebels after they swept virtually unopposed into the heart of Tripoli.

As rebel leaders appeared to take control of the city they arrested Gaddafi's heir apparent Saif al-Islam and put Mohammad under house arrest.

On a night of extraordinary developments in the Libyan capital, the rebels advanced through the city capturing the central Green Square as the regime crumbled.
In a symbolic move the rebels immediately began calling it Martyr's Square, rejecting the colour so associated with Gaddafi's despised regime.

Thousands took to the streets to celebrate the rebels' success, firing guns into the air, chanting loudly and destroying symbols of Gaddafi.
Many Tripoli residents received a text message from the rebel leadership saying: 'God is Great. We congratulate the Libyan people on the fall of Muammar Gaddafi.'