At least 30 killed as suicide attacker hits Pakistan mosque
Fears that death toll could rise; scores of others wounded; elsewhere, apparent US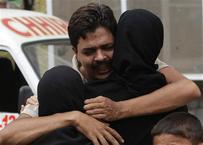 PESHAWAR, Pakistan — At least 30 people were killed and scores of others wounded Friday in a suicide bombing at a mosque in northwest Pakistan, a senior government official told NBC News.
The official told NBC that a teenage attacker blew himself up inside the main hall of the mosque moments after worshippers had finished their prayers.
The Associated Press, citing a local government official, reported that the death toll could be as high as 40.
Some 300 people were at the mosque for Friday prayers during the holy month of Ramadan when the bomb exploded in Ghundi village of Khyber tribal region.
Hotbed of Islamist activity
Pakistan's tribal belt is a hotbed of Islamist militant activity, as well as sectarian rivalry.
Khyber also is a key region for the U.S. and NATO, because a large portion of non-lethal supplies heading to U.S. forces in Afghanistan must cross through the region.
The attack came following a period of relative calm in the country, which has suffered numerous Taliban and other attacks in recent years.
H/T: Vlad