1 IDF SOLDIER, 6 CIVILIANS DEAD!
— Anti-tank missiles the works being used in the attack!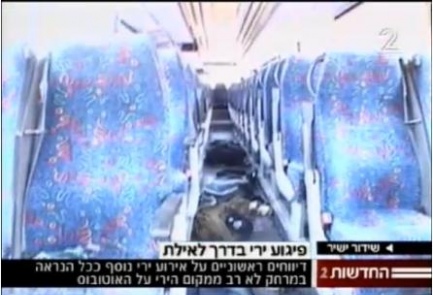 UPDATE III:  Twitter#israel Ambulance service confirmed 6 deaths via @Reuters unconfirmed news of 5 critical. cases still hasn't been reached!!! #breaking  
Barry Rubin writes: This isn't just another terrorist attack—it's a major escalation, a new phase in the Arab-Israeli conflict, and it is the bitter fruit of the U.S.-backed downfall of the government of President Husni Mubarak in Egypt.
Chall Hu Akbar: The IDF now says:

Combined terrorist attacks are currently taking place on Israeli territory, near the Israel- Egypt border, approximately 20 kilometers north of the city of Eilat.

Nine people were injured when terrorist opened fire at an Israeli bus approximately two hours ago. The injured were evacuated to receive medical care at a nearby hospital.

Several people were injured as a result of an explosive device, detonated on an IDF force that arrived at the scene and drove over it.

Crossfire between IDF forces, led by the Commander of the 80th Division, Brigadier General Tamir Yadi and the cell of terrorists is currently underway. Additional IDF and rescue forces are arriving at the scene.

Hamas has issued a report on the attacks in which they call Eilat "occupied Om Ar-rashrash."

3:06 PM The IDF has said that the attack originated in Gaza.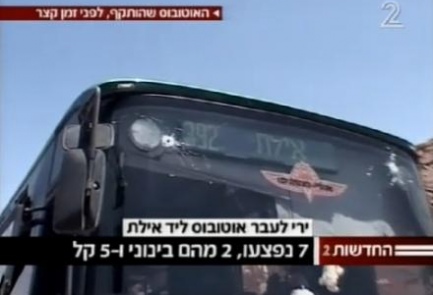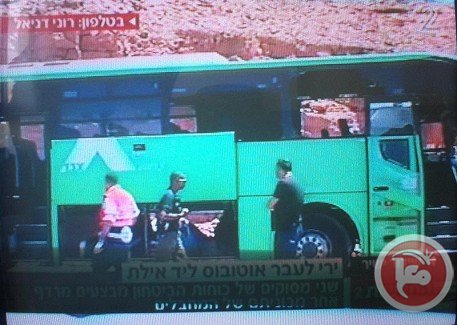 Several killed in Israel attacks – Israeli TV stations 
al-Beeb: The bus was attacked near the southern resort of Eilat 

Several people have been killed in a series of attacks on vehicles in southern Israel, Israeli television stations report
UPDATE II: IsraelMatzav live blogging it as well: 
2:00 PM 'Tens' of wounded. IDF killed all terrorists. Events happened on Route 12 in area. 1 killed, 20 wounded on bus. Five wounded from IED's near Philadelphi. All critical. 25 wounded brought to Yoseftal Hospital in Eilat. Some transferred to Soroka in Beersheva. Egypt denies involvement. 'Palestinians' claim terrorists wore IDF uniforms. No confirmation of that. No group has taken responsibility.

2:02 PM Bus was shot at by passing passenger car. Third incident, near Netafim involved shooting at a bus and car. Yoseftal has 25 wounded including 5 critical.

2:25 PM As of now, it's believed that terrorists left Gaza through Philadelphi, crossed into Egypt and then came back across the border into Israel along Route 10 (they didn't say 10 but that's what's on the map) and attacked.

IDF says event not yet ended. They cannot say if there are other terrorist cells wandering around the area. There are exchanges of fire near Gaza.

2:38 PM  Driver of private car told Israel Radio correspondent at Yoseftal Hospital in Eilat that he saw soldier in uniform kneel and shoot at his car. This happened on Route 10, which runs along the Egyptian border from the Philadelphi Corridor to Eilat.

3:08 PM Events still not deemed under control. The IDF believes there could still be terror cells hiding in the area waiting to attack.

Highways 10 (the blue line above) and 12 are closed by IDF order.

There is a battle going on now in the area. More below.

Yoseftal Hospital now reporting 29 wounded – 7 of whom were helicoptered to Soroka in Beersheva. The rest are being treated in Yoseftal. The bus included soldiers traveling home on weekend leave. Bus was traveling from Beersheva to Eilat.

IDF vehicle hit IED and its passengers were hurt.

As you can probably tell, there is still, several hours later, confusion as to what happened.

By the way, if you look at the map above, Road 12 runs from Mitzpe Ramon to Eilat.

4:00 PM Most wounded came from bus. Report of seeing soldier wearing Egyptian uniform opening fire has been confirmed by several witnesses. Roads 10 and 12 closed.

IDF believes terrorists came from Gaza via Sinai. Ehud Barak said this shows Egyptians don't control the area. The Egyptians are searching the area now and reject report that there was firing from Egypt.
UPDATE I
: Five dead being reported.
Jameel from The Muqata reports that: 
There are multiple attacks currently going on now, along with gunbattles between Israeli Police YAMAM special forces. 
Massive multiple terror attacks in South Israel. Details below. 

3:24 PM Israel Channel 2 TV reports that 7 terrorists have been killed by IDF and Police forces today in today's terror attacks. 
2:49 PM Shooting heard on Israel-Syria border. No additional information yet.
2:39 PM Report of shooting attack near Elad (Rosh Haayin). Arab terrorist killed.
2:25 PM Driver of the first attacked bus (and other witnesses) says terrorists were wearing Egyptian Army uniforms. 
2:18 PM MDA volunteers trapped by gun battle, can't get out.
2:03 PM IDF expecting rocket attacks from Gaza.
1:50 PM Eilat Airport closed. Missile may have been fired from Egypt. 
1:45 PM Manhunt underway for white car with terrorists in it down south.
1:41 PM Israel radio says no explosion in Beer Sheva. Possibly gunfire.
1:36 PM Possible explosion in Beer Sheva. Awaiting confirmation or report.
1:34 PM Unconfirmed: 4 of the 5 dead are IDF soldiers. 
1:28 PM Police set up roadblocks around Beer Sheva.
2 dead terrorists confirmed near Eilat.
1:26 PM Attacked bus number was #392.
1:23 PM Apparently 3 (maybe 4) attacks, Anti-tank missiles, mortars, guns and roadside bombs used.
1:19 PM Route 12 closed to all traffic.
1:19 PM Roadside bomb blew up at Philadelphia Zone (Gaza).
1:14 PM Mortars fired at forces dealing with southern terror attack!
1:13 PM MADA in full emergency mode for multiple casualties near Eilat.
1:11 PM Update: 2 children now brought to hospital from attacked car.
1:09 PM Car full of wounded children arrive at IDF roadblock.
1:08 PM Unconfirmed reports of 5 dead in attack. 3:59 PM Reports that today's terror attack included an attempt to kidnap IDF soldiers. Unconfirmed reports that mortars are being fired from Gaza at the Kissufim area.
3:48 PM IDF declares terror area in Southern Israel as "closed military zone"
3:46 PM UN removes all personnel from Gaza, anticipating Israeli military operation. Egypt has closed the Rafiah border crossing to Gaza.
3:43 PM Hamas in Gaza warns Israel not to retaliate. Hamas terror leaders have gone under-ground anticipating IDF retaliation.
3:40 PM Reports that IDF initiates "lockdown" — forbidding all soldiers in Southern Israel from leaving their bases due to ongoing terror threat, except for those involved in combat-related, counter terror or necessary ongoing/operational security related tasks.
3:33 PM Reports that children are among the casualties in today's attacks. Channel 2 Israel TV is reporting that the "Popular Resistance" terrorist organization in Gaza is claiming credit for today's attack and that 20 terrorists participated. The Popular Resistance organization is aligned with Hizbollah and is also a "terror contractor" for Hamas.
MDA: Terrorists attack bus north of Eilat; 10 injured
By JPOST.COM STAFF AND YAAKOV LAPPIN
08/18/2011 12:39
Paramedics arrive on scene, say casualties remain conscious; unclear whether shots fired from Egypt or whether gunmen infiltrated southern border; Barak: We will hunt the perpetrators.
Talkbacks (2)
Shots were fired at a Egged bus on Route 12, which connects Mitzpe Ramon to Eilat, according to reports received by Magen David Adom on Thursday afternoon.The bus, line 392, was fired upon by a long-barreled hand gun from a vehicle carrying three terrorists. The driver avoided further damage by continuing to drive instead of braking.The terrorists escaped in the direction of the Egyptian border. Police helicopters are now trying to locate them.Six people were lightly injured by shots and four were moderately injured. The paramedics arrived on the scene and are taking the victims to Yoseftal Hospital in Eilat.The incident took place in a military zone, police said.