Good riddance. KGS
IDF strikes Gaza in response to attacks; 6 reported dead
By YAAKOV KATZ, REUTERS AND JPOST.COM
08/18/2011 19:17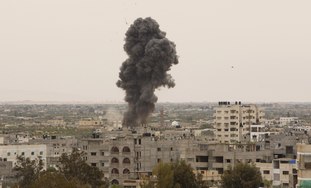 Joint IDF, Shin Bet operation hits Rafah after triple terrorist attacks near Eilat kill 7; chief of terrorist faction PRC killed in airstrike.
The IDF attacked terror targets in Rafah in the Gaza Strip on Thursday, in response to a three-stage terrorist attack which killed seven Israelis and wounded dozens in the South earlier in the day.
Six Palestinians were killed in the joint IDF and Shin Bet strike.
Among those killed was the chief of the Popular Resistance Committees (PRC), Kamal al-Nairab. The five others that were killed were also members of the terrorist faction .