THE NEVER REST.
The Baron 'Fisks' a White House document entitled "Empowering Local Partners to Prevent Violent Extremism in the United States" [pdf], which was released earlier this month. It shows a great shift in US policy (in violation of the US constitution) towards being in compliance with the OIC's (Organization of the Islamic Cooperation) agenda in instituting blasphemy laws. Remember folks, any mention of "defamation of religions" by the OIC, should in this disclaimer: it's all about Islam, nothing else. KGS
NOTE: The OIC was confronted by the Tundra Tabloids in Helsinki back in October of 2008 (GOV's report on it here), in which the head of the world's largest Muslim organization refused to denounce Muslim state sponsored anti-Semitism, and then denied its existence. This is the organization that continues to promote itself as the voice of the Islamic world, yet it refuses to reject the institutionalized anti-Semitism found within its member states, while promoting an anti-Islamophobia agenda world wide.
This is the kind of deviousness that's the hallmark of the OIC, and needs to be confronted where ever it lifts its head.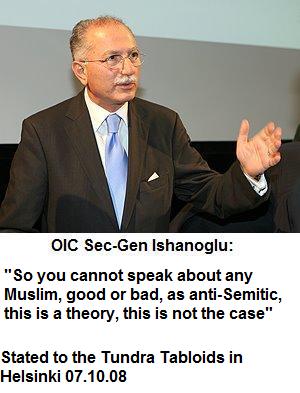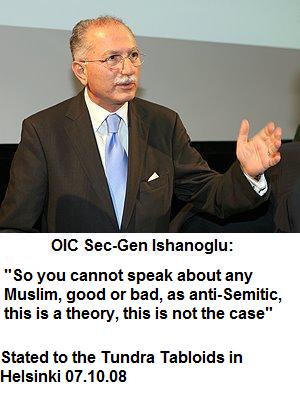 Whitewash in the White House
Gates of Vienna: The Organization of Islamic Cooperation is six years into a ten-yearcrusade struggle against what it calls "Islamophobia". It has set up an Islamophobia Observatory to keep an eye on those who oppose Islam, and issues both quarterly and annual reports on the progress of its work.
Back in June the foreign ministers of OIC member states met for a three-day session in Kazakhstan and hammered out a series of resolutions which were published as "Resolutions on Legal Affairs Adopted by the 38th Session of the Council of Foreign Ministers (Session of Peace, Cooperation and Development) Astana, Republic of Kazakhstan) 28-30 June 2011" [pdf]. As you can imagine, this document is a dreadful load of deadly-dull bureaucratic boilerplate, and very handy bedtime reading for insomniacs.
[…]
So how is the Obama administration doing? What kind of report card will it get from the OIC? Based on the document below, Barack Hussein Obama is a candidate for the honor roll.
A document entitled "Empowering Local Partners to Prevent Violent Extremism in the United States" [pdf] was released earlier this month by the White House. Once again, this is pretty dull reading — the usual useless claptrap that we've come to expect from the federal government over the last ten years about how it plans to fight "terrorism". It was bad enough under George W. Bush, but it has gotten worse under the Light-Bringer.
[…]
Now let's isolate the use of the words "Islam" and "Muslim" in the above excerpts:
…but this also has potential to create a backlash against Muslim Americans.
Such a backlash would feed al-Qa'ida's propaganda that our country is anti-Muslim and at war against Islam, handing our enemies a strategic victory by turning our communities against one another…
Violent extremists prey on the disenchantment and alienation that discrimination creates, and they have a vested interest in anti-Muslim sentiment…
Muslim Americans are part of our American family…
…we must counter al-Qa'ida's propaganda that the United States is somehow at war with Islam.
…they all believe: (1) the United States is out to destroy Islam…
…Al-Qa'ida and its supporters spread messages of hate, twist facts, and distort religious principles to weave together a false narrative that Muslims must attack Americans everywhere because the United States is waging a global war against Islam.
While al-Qa'ida claims to be the vanguard of Islam, the overwhelming majority of its victims are Muslim.
…the United States is not, and never will be, at war with Islam. Islam is part of America, a country that cherishes the active participation of all its citizens, regardless of background and belief.
We have emphasized a paradigm of engagement with Muslim communities around the world, based on mutual respect and interest manifest in our new partnerships and programming to promote entrepreneurship, health, science and technology, educational exchanges, and opportunities for women.
All of this — every single word of it — is designed to send out a positive, affirmative message about Muslims, to define Muslims as victims in all circumstances, and to deny that Islam has any negative characteristics.
There is no hint that the ideology prescribed by Islamic scriptures and shariah law contributes to "extremist" terrorism.
There is no mention that virtually all "extremists" adhere to theology and legal precepts that are shared by prominent scholars at Al-Azhar University and other centers of Islamic theology.
If you read only this document, and similar material put out by the U.S. government, you would never know that the opinions held by the "extremists" are quite mainstream, and are all but identical with what is taught by devout imams in mosques all over the world. Being an "extremist" means applying these precepts somewhat more kinetically than most Muslims dare to do, but the principles are the same.
What we see here, in fact, is a document that follows the guidelines laid down by the OIC in the resolution quoted at the top of this post. The White House has accepted the OIC's definition of "religious defamation", and has complied with it in full. We now have a White House that is fully shariah-compliant.
Secretary of State Hillary Clinton has been reaching out to the OIC for quite some time, and her work has borne fruit. We may assume that Organization of Islamic Cooperation is pleased with the result.