How animals are treated tells you a lot about the society itself. I came across this story via the Mark Levin Show, about an article by the TT's good friend and colleague, Andy Bostom, concerning a heart wrenching story of a poor animal abused repeatedly by local Afghans. It's an understatement to say that the dog named Wylie was just abused, he was tortured repeatedly, by people retarded by Islam which treats dogs as a filthy creature.
Levin makes a salient point in the form of rhetorical question:
If you're prepared to treat a puppy, or a dog this way, is there any wonder, any wonder that democracy doesn't take hold in some parts of the world? I'm very serious about this. These animals aren't a threat to anybody. They don't even have a history of religious battles, ancestral fights, none of it, they are as pure joy and happiness as you can get. If you're so full of hate, and contempt and you don't have a heart and a soul, and you're going to treat puppies and dogs in this way, you're going to treat other human beings this way. This is why I don't buy into the "democracy" project."
The Tundra Tabloids is full agreement. KGS
The Life of Wylie: Canine Cruelty By Our "Afghan Allies"
August 17th, 2011 by Andrew Bostom |
No Comments
2,898 visitors have read this article
Australian Federal Police officer Narelle Jensz, right, with Wylie, while he was being operated on at the Kandahar base in Afghanistan.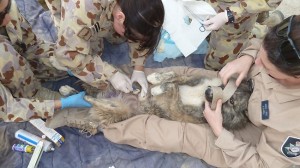 The Australian (hat tip Religion of Peace). has a moving report on the humane efforts of Australian Federal Police officer Narelle Jensz to rescue Afghan dogs—viewed as "unclean" in Islam—and therefore wantonly brutalized by local Muslims.
In her 10-month tour, the 37-year-old has treated countless dogs and successfully adopted 15 Afghan strays out to returned coalition soldiers across the world, many of whom have testified to the rehumanising impact of their animal companions.
The following extracts from "The Life of Wylie," an Afghan mutt rescued by Jensz, are prototypical of the cruelty our Afghan Muslim allies mete out to innocent dogs, especially those of Kandahar, as the Australian relates,
….many of whom despise dogs only marginally less than they do coalition soldiers
Initially,
Wylie, the Afghan mutt, was rescued in February by a convoy of British soldiers on patrol in a Kandahar bazaar, where a dog-fighting crowd was beating the smaller dog with lumps of wood to force the last fight out of him.
That beating turned out to be the least horrific brutality this resilient canine would suffer over the following weeks, and months:
Remarkably he did but his torments were far from over.