Ramadan, it's a blast!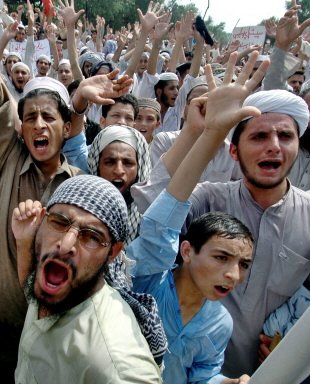 Yep, every time I hear the word 'ramadan', I think of endearing, heartwarming tales like this. KGS
7 pulled from Iraqi mosque, killed execution-style
BAGHDAD (AP) — Gunmen wearing military uniforms pulled seven people from a Sunni mosque south of Baghdad and then shot and killed them execution-style, officials said Tuesday, raising the death toll to 70 in Iraq's deadliest day this year.
The killings late Monday came at the end of a day that saw a wave of crushing violence sweep across Iraq, from the northern city of Mosul to the Shiite heartland — including suicide bombings, roadside bombs and shootings. The violence was reminiscent of the bloodletting that used to plague Iraq daily a few years ago and a stark warning that al-Qaida in Iraq is still a force to be reckoned with.
The fact that militants were able to pull off such a wave of violence is especially disturbing considering that U.S. forces are scheduled to leave Iraq at the end of this year, leaving the country's security in the hands of still-struggling Iraqi security forces.