The Libyan dictator is slowly losing his grasp on what little power he has left at his disposal, soon you'll be seeing the the US supported jihadis (including al-Qaida) adjusting his back against the wall and bang, bang, bang. KGS
Gaddafi urges Libyans to take up arms against NATO
By REUTERS
08/15/2011 06:00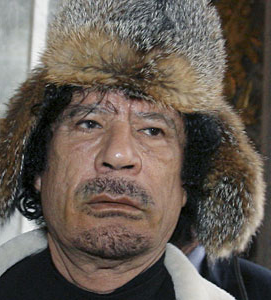 Sources say that Gaddafi and rebel representatives were holding secret talks in Tunisia; Gaddafi makes first public statement since Ramadan.
TRIPOLI – Libyan leader Muammar Gaddafi urged his people early on Monday to "liberate Libya" from NATO and traitors, a day after rebels captured a key town on the road west to Tunisia, severing Tripoli's main supply route.
Late on Sunday, representatives of Gaddafi's government were holding talks with rebels at a hotel on the southern Tunisian island ofDjerba, a source with direct knowledge of the talks said — though the government spokesman denied it.
The talks followed a dramatic advance by the rebels that won them control of the town of Zawiyah, 50 km (30 miles) west of Tripoli on the coast, enabling them to halt food and fuel supplies from Tunisia to Gaddafi's stronghold in the capital.
Tripoli was not under immediate threat from a rebel attack, but rebel forces are now in their strongest position since the uprising against 41 years of Gaddafi's rule began in February, controlling the coast both east and west of Tripoli.
Gaddafi's speech on Monday, delivered over a poor quality telephone line and broadcast by state television in audio only, was his first public address since rebel fighters launched their latest offensive, the biggest in month.