They're still the most popular party in Finland. The socialists have only managed to milk sympathy votes from the tragedy in Norway, nothing to see there folks, move along. Just wait until you see the call for more bailouts of loser states in the EU, the True Finns popularity will surge even more. Stay tuned folks, the minority government of losers will fall within a year or so, with the TF party posed to make great gains in the snap elections. KGS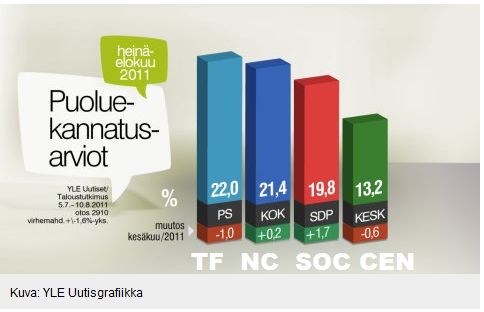 True Finns still most popular party, SDP gains ground
published yesterday 05:17 PM, updated yesterday 08:55 PM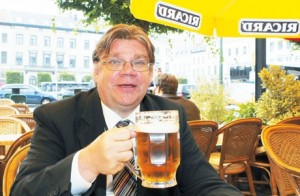 The True Finns Party continues to be the country's most popular with voters. A YLE-commission poll carried out in July – early August showed 22% voter backing for the True Finns. The conservative National Coalition Party gained 21.4% support while support for the Social Democrats showed the biggest new gains. Backing for the Centre Party continued to decline.
Support for the True Finns, while high, was down from the 23% recorded in a similar poll in June.
The National Coalition Party was up 0.2 percentage points from June and the SDP at 19.8% was up by 1.7 percentage points. The figure for the SDP was the highest seen since last September.
Centre continues fall
The decline in support for the Centre Party was seen to be continuing with backing in this latest poll at an all-time low. Of those surveyed, 13.2% voiced support for the Centre, that is 0.6 percentage points less than in June.
Backing for the Left Alliance, at 7.6% was down by 0.4 percentage points. The Greens had the support of 7.4%, up by 0.2 percentage points. At 3.9%, the Swedish People's Party was down 0.2 percentage points and support for the Christian Democrats at 3.4% was up by 0.3 percentage points.
Norwegian massacre did not impact True Finns
According to Research Director Jari Pajunen of the pollster Taloustutkimus the recent tragedy in Norway did not seem to have an effect on support for the True Finns.
"Actually, in no way at all. Support has been at this level throughout the whole period covered by the survey," said Pajunen.
In contrast, Jari Pajunen attributes a spike seen in support for the SDP to the Norwegian massacre, but notes that it was short-lived. Actual growth in backing for the party took place in late June – early July.
Pajunen sees the general trend as being a rise in support for parties in the coalition government and a fall for parties in opposition.
"Once a government was formed, there's been some kind of honeymoon still going on," noted Pajunen.
For the survey, Taloustutkimus interviewed 2,910 Finns between the 5th of July and the 10th of August. The margin of error is 1.6 percentage points.