Now they've done it, Glick will never let up on them.
Norway, the gift that keeps on giving. The radical extremist Leftist regime in Norway are so smug in their self righteousness that they step all over themselves (and their tongues) time and again. This time it's the JPost's Caroline Glick who takes aim at the regime in Norway, and literally cuts them to pieces. KGS
NOTE: The TT hopes for a Latma version of the brouhaha very soon.
Our World: Norway's Jewish problem
By CAROLINE B. GLICK
08/08/2011 23:17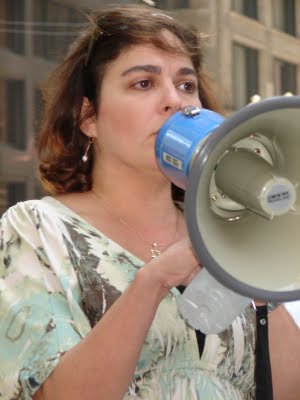 Norway's gov't attacked us for merely pointing out in various ways, that Norway should not use Breivik's attack as justification for further weakening Norwegian democracy.
In the wake of Anders Breivik's massacre of his fellow Norwegians, I was amazed at the speed with which the leftist media throughout the US and Europe used his crime as a means of criminalizing their ideological opponents on the Right. Just hours after Breivik's identity was reported, leftist media outlets and blogs were filled with attempts to blame Breivik's crime on conservative public intellectuals whose ideas he cited in a 1,500 page online manifesto.
My revulsion at this bald attempt to use Breivik's crime to attack freedom of speech propelled me to write my July 29 column, "Breivik and totalitarian democrats."
While the focus of my column was the Left's attempt to silence their conservative opponents, I also noted that widespread popular support for Palestinian terrorists in Norway indicates that for many Norwegians, opposition to terrorism is less than comprehensive.
To support this position, I quoted an interview in Maariv with Norway's Ambassador to Israel Svein Sevje.
Sevje explained that most Norwegians think that the Palestinians' opposition to the supposed Israeli "occupation" is justified and so their lack of sympathy for Israeli victims of Palestinian terrorism was unlikely to change in the wake of Breivik's attack on Norwegians.
Since my column was a defense of free speech and a general explanation of why terrorism is antithetical to the foundations of liberal democracy – regardless of its ideological motivations – I did not focus my attention on Norwegian society. I did not discuss Norwegian anti- Semitism or anti-Zionism. Indeed, I purposely ignored these issues.
But when on Friday, Norway's Deputy Foreign Minister Espen Barth Eide published an unjustified attack on me on these pages, he forced me to take the time to study the intellectual and political climate of hatred towards Israel and Jews that pervades Norwegian society.
That climate is not a contemporary development.
Rather it has been a mainstay of Norwegian society.
In a 2006 report on Jew hatred in contemporary Norwegian caricatures published by the Jerusalem Center for Public Affairs, Erez Uriely noted among other things that Norway banned kosher ritual slaughter in 1929 – three years before a similar ban was instituted in Nazi Germany.
And whereas the ban on kosher ritual slaughter was lifted in post-war Germany, it was never abrogated in Norway.
As Uriely noted, Norway's prohibition on Jewish ritual slaughter makes Judaism the only religion that cannot be freely practiced in Norway.
Fascism was deeply popular in Norway in the 1930s.
In the wake of the Nazi invasion, Norwegian governmental leaders founded and joined the Norwegian Nazi Party. Apparently, sympathy for Nazi collaborators is strong today in Norway.
As the JCPA's Manfred Gerstenfeld noted in a report on the rise in Norwegian anti-Semitic attacks during 2009, two years ago the Norwegian government allocated more than $20 million in public funds to commemorate Norwegian novelist Knut Hamsun on the occasion of the Nobel laureate for literature's 150th birthday. As The New York Times reported, in February 2009, Norway's Queen Sonja opened the, "year-long, publicly financed commemoration of Hamsun's 150th birthday called 'Hamsun 2009.'" But while Hamsun may have been a good writer, he is better remembered for being an enthusiastic Nazi. Hamsun gave his Nobel prize to Nazi propaganda chief Josef Goebbels. During a wartime visit to Germany, Hamsun flew to meet Adolf Hitler at Hitler's mountain home in Bavaria.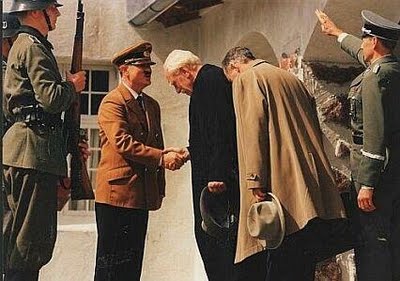 And in 2009, Norway built a $20 million museum to honor his achievements.