The English Defence League – Standing Firm

  
Pre-Word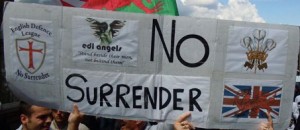 In recent weeks there has been a great deal of speculation about the EDL's position on Israel, and the role that the EDL Jewish Division has played in determining our direction.
The following statement is intended to set the record straight. The statement was prepared by the EDL Editorial Team according to the wishes of the leadership, and has been fully approved by EDL Joint-Leader Kevin Carroll.
We do not believe it would be appropriate to single out any individuals involved in recent events, and believe it to be in everyone's interests that any further concerns be communicated privately.
Thank you,
EDL Editorial Team