So why should Assad be worried about public opinion, his father leveled the same city killing tens of thousands, and his neck wasn't even on the line. Bashar has even less wiggle room. KGS
Syrian tanks occupy main Hama square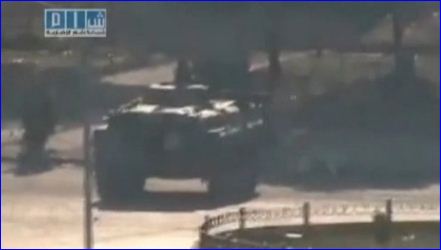 Syrian tanks occupied the main Orontes Square in central Hama after heavy shelling of the city on Wednesday, according to residents.
"All communications have been cut off. The Syrian regime is using the media focus on the Hosni Mubarak trial to finish off Hama," one of the residents told Reuters by satellite phone from the city, adding that shelling concentrated on al-Hader district, large parts of which were razed during a 1982 military assault on Hama that killed thousands.
He said that tanks were seen thrusting to the centre from the south, accompanied by an array of ultraloyalist units, including militiamen known as 'shabbiha', paratroopers and special forces.
The square has been the venue of some of the largest demonstrations against President Bashar al-Assad's rule during a five-month street uprising for political freedoms. A brutal crackdown by security forces has killed many hundreds of protesters, according to human rights groups.