And it was a Moroccan woman who introduced it. KGS
Italy Parliament Commission Approves Burqa Ban
Al-AP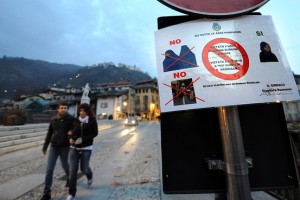 ROME—An Italian parliamentary commission on Tuesday approved a draft law banning women from wearing veils that cover their faces in public.
The draft passed by the constitutional affairs commission would prohibit women from wearing a burqa, niqab or any other garb that covers the face in such circumstances. It would expand a decades-old law that for security reasons prohibits people from wearing face-covering items such as masks in public places.
Women who violate the ban would face fines of €100 to €300, while third parties who force women to cover their faces in public would be fined €30,000 ($43,000) and face up to 12 months in jail.
A couple passes by a road sign reading 'No burqa. No niqab' and 'No street traders. No beggars' in Varallo, in the Piedmont region of northernItaly, in November 2009.
Italy, an overwhelmingly Catholic country with a small Muslim minority, is the latest European country to act against the burqa. France and Belgium have banned the wearing of burqa-style Islamic dress in public, as has a city in Spain. The Belgian law cited security concerns.
The Italian law was sponsored by Souad Sbai, a Moroccan-born member of Prime Minister Silvio Berlusconi's conservative Freedom People party, who said she wanted to help Islamic women better integrate into Italian society.