Folks, this is not fear mongering, but a factual accounting of the progression of the decay of western society. Thirty years ago, who would have dared predict that religious supremacists would be taking over sectors of British society declaring that they are not under the same rule of law, and that one day they'll execute people, even of their own number and outside it, for violating the tenets of their belief system? Wise up, get educated, motivated and demand a change of course. KGS
H/T: Scottish Infidel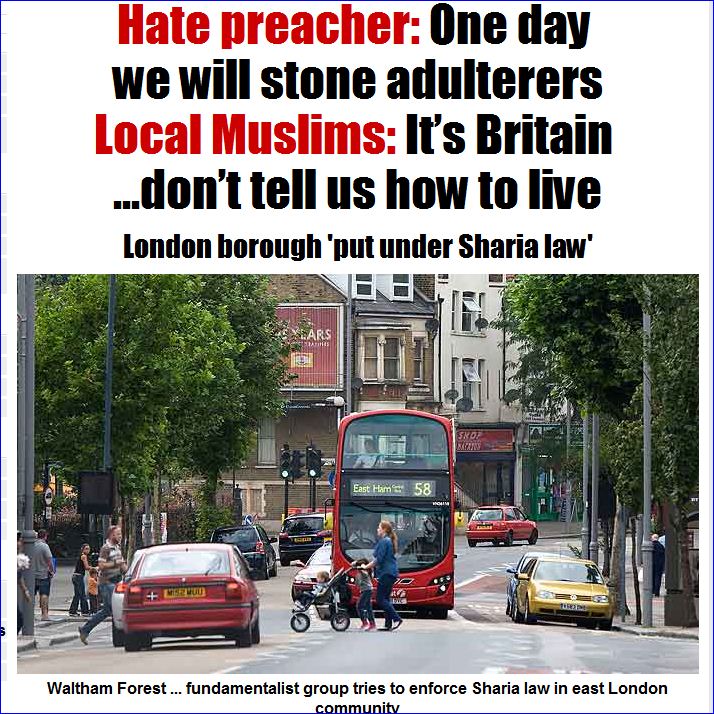 IT'S the leafy London suburb that's gearing up to be one of the host local authorities for next year's Olympics.
But yesterday bemused residents of Waltham Forest were reacting to news the borough had been declared an Islamic emirate by a fringe group of fundamentalists.
The group Muslims Against Crusades has demanded strict Sharia law in the east London community – banning gambling, smoking and alcohol.
Dozens of posters had been put up – quickly removed by the council – insisting: "You are entering a Shariah controlled zone – Islamic rules enforced."
The group's Islamic Emirates Project aims to establish independent Muslim states within Britain and has also earmarked Bradford and Dewsbury in West Yorks, and Luton, Beds.
The Islamic group's website said: "Muslims Against Crusades would like to announce that Waltham Forest is to be the first borough to be targeted for an intense Shariah-led campaign."