Now they're saying it was a double blast, sounds like al-Qaida to me. KGS
UPDATE: A report in the Norwegian press speaks of a Youtube video possibly speaking of the bombing ahead of time last Sunday, Polish can be heard in the background but the story line doesn't make sense. stay tuned.
UPDATE: Fjordman: "The place where the shooting takes place, Utøya, is full with a crowd of young members of the Labor Party. Former Norwegian Prime Minister Gro Harlem Brundtland held a speech there earlier today, and the current PM Stoltenberg is supposed to do so tomorrow."
UPDATE III: NYT says seven dead and that an Islamic jihadi group is claiming responsibility. Ansar al-Jihad al-Alami, or the Helpers of the Global Jihad.
Victims floating in water off island's coast
20.59 AP is now reporting that Oslo police say nine or 10 people were killed at the youth camp.
20.50 Jonas Gahr Store, the country's foreign minister, is on BBC News. He says the young people on the island were 15-20 years old and are the country's "finest".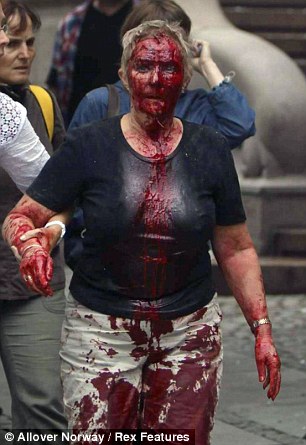 Several shots fired at Utøya Buskerud
(AP) Eyewitnesses told the AP that a man dressed as a police officer has fired several shots at Utøya in Buskerud.
AP spoke with one of those who were on Utøya where blasting a AUF event with over 700 people.
– The person legitimated themselves as police when he was transported to the island. He stated that this was a routine check in connection with the terrorist attack in Oslo, says the eyewitness to the AP.
– Suddenly, we heard lots of shooting. People had to run and hide. We have been told to get off the island.
AP knows that the police in Oslo have been informed about the incident on Utøya.
– There is a critical and serious situation in Utøya, confirms Jens Stoltenberg told TV 2
The police are now on site and sealed off the area.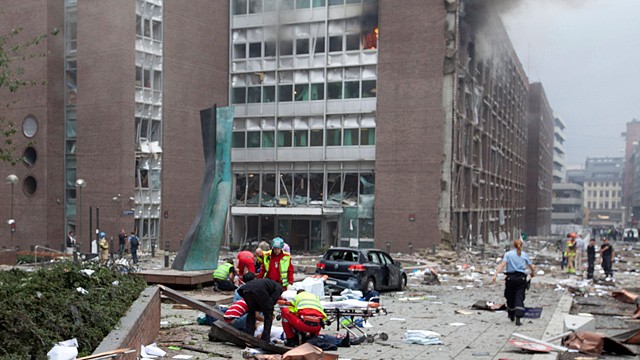 Oslo Explosion: One of Two Blasts Result of Massive Vehicle Bomb, Sources Say
At least one of two explosions that rocked a Norwegian government building in Oslo today was result of a massive vehicle bomb, according to U.S. government sources on the scene.
Law enforcement officials told ABC News there were two blasts at the Norwegian capital and Norwegian news reported at least two people were killed. Several more were injured.
A government official told the BBC people were still trapped in the effected buildings.
The prime minister, whose office is in the building, survived the blast, a government spokesperson told The Associated Press.