This is a major terrorist attack of unknown origins…yet. KGS
UPDATE: Frank Kitman has this eyewitness report:
UPDATE II: Fjordman notes: "And please keep in mind that the left-wing government of Jens Stoltenberg that was just bombed is the most dhimmi appeasing of all Western governments, to the extent that this is humanly possible. They even wanted to fund Hamas openly a while ago. The most suicidal and cowardly government in a country with no colonical history was just attacked. How do you explain that as a response to Western "aggression"?
Norway: Blast near prime minister's office in Oslo
Eyewitness: "Police are beginning to seal off streets where there is a danger of falling glass"
Continue reading the main story
Related Stories
LIVE: Oslo explosion
'All the windows have been blown out'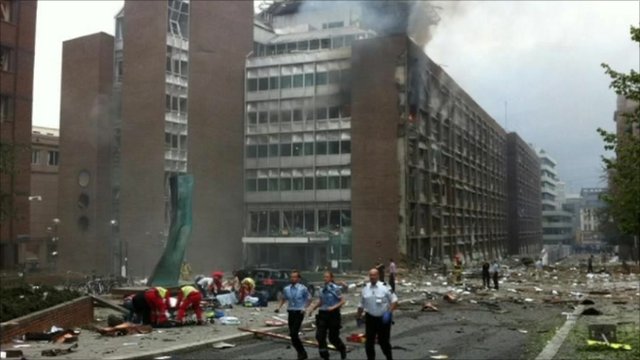 In pictures: Oslo explosion
A large explosion has hit near government headquarters in the Norwegian capital Oslo.
At least one person was killed in the city centre blast, national broadcaster NRK reports.
The offices of Norwegian Prime Minister Jens Stoltenberg were damaged extensively but a government spokeswoman said he was safe.
At least eight people were injured, local media said. No-one has said they were behind the explosion.
Television footage from the scene showed rubble and glass from shattered windows in the streets – smoke was around some buildings. The wreckage of at least one car was in street.
All roads into the city centre have been closed, said the NRK, and security officials evacuated people from the area, fearing another blast.
We have to try to keep an open mind until it is confirmed that this was a terrorist act.
Certainly the indications point to it being at least one possibly more bomb blasts but that is not confirmed yet. Everybody is working on the suspicion that this is terrorism.
It is very unusual for something like this to happen in Norway. Sweden had its own experience of this in downtown Stockholm some months ago, with a car bomb that exploded, killing the person who detonated it.
Oistein Mjarum, head of communications for the Norwegian Red Cross, said his offices were close to the site of the explosion.
"There was a massive explosion which could be heard over the capital Oslo," he told the BBC.
Government spokeswoman Camilla Ryste told the Associated Press Mr Stoltenberg was safe. Initial reports said he was no hurt.
'Complete chaos'
Mr Mjarum said there were fires burning in the prime minister's 17-storey building.
"This is a very busy area on Friday afternoon and there was a lot of people in the streets, and many people working in these buildings that are now burning," he said.
Eyewitness Ole Tommy Pedersen said he was standing at a bus stop about 100m away from the blast.
"I saw three or four injured people being carried out of the building a few minutes later," Mr Pedersen told AP.
He said there was a cloud of smoke billowing from the lower floors.
An NRK journalist, Ingunn Andersen, said the headquarters of tabloid newspaper VG had also been damaged.
"I see that some windows of the VG building and the government headquarters have been broken. Some people covered with blood are lying in the street," AP quoted her as saying.
"It's complete chaos here. The windows are blown out in all the buildings close by."
The BBC's Security Correspondent Frank Gardner says that while there is no official word on whether the blast was deliberate its location, close to so many government buildings, is significant.