Islam is all about supremacy and racism, only the Arab is the true, pure, authentic Muslim, blacks have been subjected to as cruel, or even worse abasement and abuse in the Islamic world as in the West. So now because the jihadi movement has hit rock bottom, its time to draw from the well, and in their supremacist (traditional Islamic) thinking, they're reaching the bottom of it in the name of helping the cause. KGS
H/T: Fjordman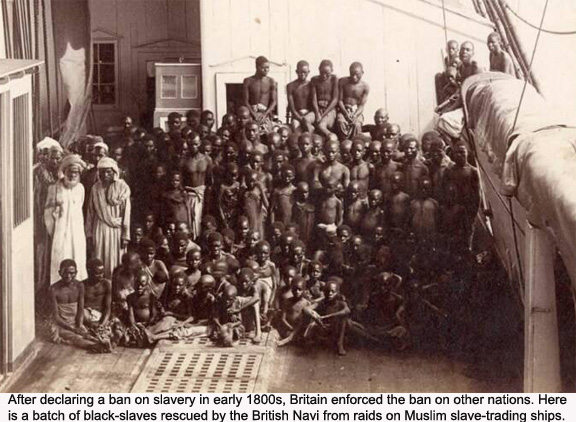 TERRORISM: AL QAEDA IN MAGHREB ENROLS BLACK AFRICANS
(ANSAmed) – TUNIS – Al Qaeda in Maghreb, managed, despite itself, in the "miracle" of driving the Sahel countries (Algeria, Mauritania, Mali e Niger) to unify their anti-terrorism units, reacted to the first defeats and played its wild card represented by the African black people, setting up a new and in certain ways revolutionary, because of its composition, "phalange" that could be placed under the direct command of Abdelhamid Zeid, another one of the "emirs of terror", second in the area only to Algerian Abdelmalek Droukdel, who already led the Salafite group for preaching and fighting, later turned into Al Qaeda in Maghreb (Aqim).
The decision to set up this new group, perfectly organic to Al Qaeda in Maghreb, was taken during a meeting between leaders that took place in the Mali desert under the personal direction of Zeid (who was believed to have died during a pitched battle against Mali's army in recent weeks), which is now being talked about by websites traditionally close to the terroristic universe.
The new group will be made up of a few hundred jihad fighters coming from Mali, Nigeria, Chad, Burkina Faso, Guinea and Senegal and will be called "Beyt el Ansar", the same name coined by Osama bin Laden 25 years ago for a group of Arab militiamen making their way back from Afghanistan. And the terrorist cell should also follow bin Laden's tactics and strategies, while probably acting with great independence, with the role of "sweeper" in Aqim's broader action.