The Israeli's have offered free assistance in handling aid shipments via Israeli ports straight to the Gaza Strip, they only stipulation is that they are carefully checked by the IDF for weapons. What these morons are trying to do is to break a legal anti-weapons blockade imposed upon the genocidal Hamas regime, while delegitimizing the Jewish state, that is what this is all about, politics, not aid. KGS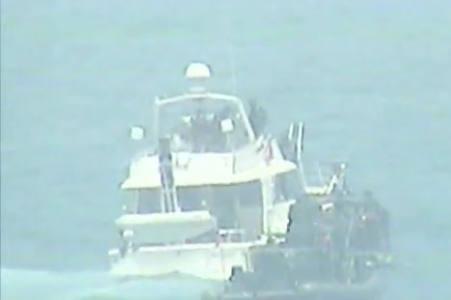 Navy takes over Gaza-bound French flotilla ship 'Dignity'
By YAAKOV KATZ AND JPOST.COM STAFF
07/19/2011 13:02
The Israel Navy commandeered and intercepted the Gaza-bound French ship Dignity – Al-Karama after negotiations to persuade 15 pro-Palestinian activists aboard to divert their course away from the Strip's closed naval blockade failed.
Navy soldiers did not encounter any resistance during the interception which resulted after the ship's captain refused to cooperate with the IDF's demand to divert its course to the Ashdod Port, the IDF Spokesperson said in a statement.
An IDF doctor inspected the passengers and they were transferred to one of the navy ships where they received food and water. The bridge of the Dignity was taken over by navy officers and then began sailing towards the Ashdod Port. The 15 passengers will be transferred to Interior Ministry officials and immigration authorities in Ashdod. They will likely be deported from Israel.
Shortly before the take-over, IDF Chief of General Staff Lt.-Gen. Benny Gantz ordered the navy to take control of the yacht as he was overseeing the operation from an underground command center at the IDF headquarters in Tel Aviv (kirya). Gantz gave the command to Navy Vice Admiral Eliezer Maron who was at sea with the forces.