Raping white non-Muslim women is sport for many Muslim males, who dare not violate one of their own due to Islamic rules, but the these girls are fair game in their opinion. KGS
H/T Fjordman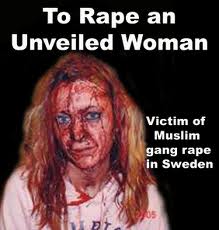 (file photo)
Asylum-seeking Kurd convicted of rape
Politiskt Inkorrekt: RAPIST The 18-year-old Kurd asylum seeker from Iraq came to Sweden last spring and ended up in Karlstad. It did not take long before he stepped over the legal limits.
In late May, he assaulted a 18-year-old girl with a broken bottle during a pre-party in an apartment. He cut up her arm with two cuts as a result. (But the district court dismissed the indictment on which it could not be ruled out that someone else had cut her. Besides, she was drunk and incoherent story under police interrogation and during the trial.)
Fourteen days later the Kurd hits another young woman in the center of Karlstad in early June and then went to an apartment on Kronoparken who belonged to a friend of Kurds. According to the woman he pulled her down on the floor in the bathroom. The Kurd took a stranglehold on her neck, hit her in the face and raped her. The woman was crying hysterically and tried to resist.
And as if that was enough for he has also devoted himself to mobile thefts in the nightclub Nöjesfabriken in Karlstad. In total he stole four mobile phones from people's bags and clothes. Now the sentence come.
Värmland district court sentenced
Ibrahim Ali Rahim, born 1992, of rape, aggravated theft in four cases, shoplifting and to imprisonment for one year and eight months. He must also pay 85,000 kronor in damages to the raped woman. Rahim had need of an interpreter in Sorani.
Nowhere in the appeal addresses was there a claim for deportation.