The article mentions the so called 'democracy movement' in the M.E. as being the reason for dissent of the German tank deal with the Saudis. The thing is, the so called democracy movement is not anything to be excited about, and that their anti-Israel stance is as staunch as the Saudis, so the basis for the anger over the tank deal is misplaced. It should be about that it threatens the security of Israel, the only true western style democracy in the region. KGS.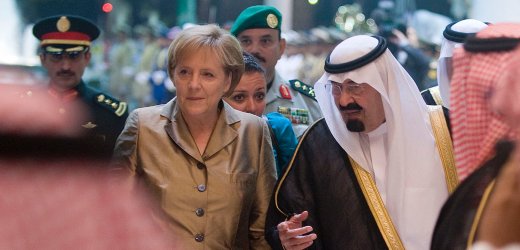 Berlin Opposition Livid about Saudi Border Deal
The opposition in Berlin was already outraged about a plan to sell 200 tanks to Saudi Arabia. Now, however, a new deal involving the training of Saudi border patrol officers is raising additional questions. And some say the German constitution may have been violated.
The deal involves a mountain of money: The German deal to sell Saudi Arabia 200 "Leopard" battle tanks is worth some €2 billion. Chancellor Angela Merkel's government has yet to directly confirm the deal — and the opposition is furious . Given the pro-democracy movements in the region, it has demanded that Germany cease making arms deals with authoritarian regimes such as that in power in Saudi Arabia.
But now the opposition has found a new avenue of attack. Germany, after all, is involved in training Saudi security forces in conjunction with the European defense company EADS. And according to a recent report in the German newsweekly Stern, the mission is much more dicey than previously thought.