The jihad strikes at the heart of indian once again. KGS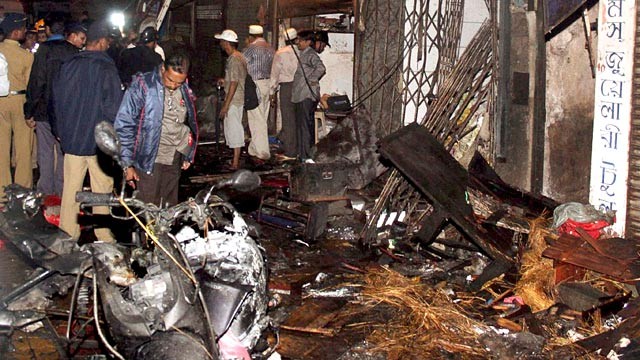 Three Blasts in Mumbai, 10 Killed, Over 100 Injured
At least 10 people were killed in the blasts, including four in Zaveri Bazaar. Six people were killed in Dadar.
All three locations are busy market places and the evening rush hour added to the intensity of death toll which is feared to go up further.
All the blasts took place in a span of 15 minutes from 6.45 pm to 7 pm.
The blast at Dadar took place at Kabutar Khana bus stop in a car, while Zaveri Bazaar bomb was kept in a meter box at a jewelry shop.
One unexploded bomb was also found in the city and the bomb squad has been rushed to the spot.
Taking the toll of the situation teams of National Investigative Agency (NIA), National Security Guards and Central Forensic Science Laboratory (CFSL) teams have rushed to Mumbai from the national capital New Delhi and a high alert has also been declared in Mumbai.
According to witnesses, at least 20 were injured in Zaveri Bazaar alone. Home Secretary have put the toll of injuries to 100.
Home Ministry has termed the blasts as terrorist attacks.
The use of Improvised Explosive Device (IED) heaps the suspicion on Indian Mujahideen and Lashkar-e-Taiba (LeT) that are known for using the same kind of device for its strike.
Sources in Home Ministry and Mumbai Police said that Indian Mujahideen is the main suspect behind the blasts.
Two Indian Mujahideen activists were arrested just a day ago by the MumbaiPolice.