NO ONE DESERVES TO DIE LIKE THIS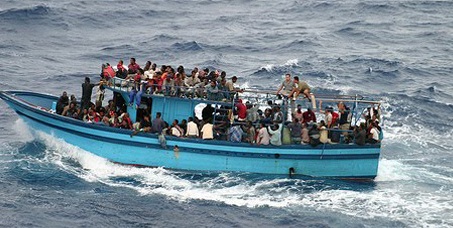 (File copy)
This is a major tragedy, too bad they didn't reach their destination. Dying in a fire is one thing, being eaten alive by sharks is another. Interestingly enough, these Africans were running to the very same people who's ideology has enslaved them for centuries, and the chief motivating factor in their being persecuted by the North Sudanese. KGS
H/T: Fjordman
IMMIGRATION: BOAT CATCHES FIRE IN RED SEA, 197 DIE
One hundred and ninety-seven African migrants headed for Saudi Arabia drowned, died in the fire engulfing the ship or were killed by sharks in an incident in the Red Sea which Sudanese authorities reported yesterday. This morning the official government information agency Sudanese Media Center reported the news and added that a second attempt to bring another 250 Africans from the same area to Saudi Arabia via sea had been thwarted by Sudanese authorities.
According to the Red Sea police commander General Haider Ahmed Suleiman, the boats which the migrants – mostly from Nigeria, Chad, Somalia and Eritrea – had left the Sudanese coasts on were reportedly Cuban. The boat which sunk yesterday, "did not have any seats or cabins and had apparently been built for fishing or other purposes," the high-ranking official told radio Omdurman, "but not for carrying passengers, especially a large number of illegal migrants."
Most of those onboard, according to General Suleiman, died from burns suffered in a fire on the boat, drowned in the attempt to save themselves of were attacked by sharks which live in the waters just off the Sudanese coastline. A small number of them managed to reach the shore by swimming, though some of the latter lost arms or legs in the attacks by sharks and are now in hospital.