Facing Islam will do that to you.
This is going to be an interesting development worth following. Getting anyone to drop socialism, national, international or otherwise, is a good thing. Eyes wide open, but following the situation closely. KGS
H/T Baron Bodissey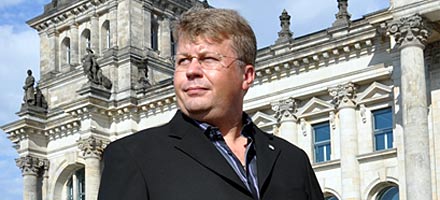 Top Israeli Politician Met Far-Right Millionaire Businessman in Berlin
BERLIN (JTA) – A top Israeli politician met with a far-right millionaire businessman in Berlin, during a weekend visit to the German capital. Ayoub Kara, deputy minister for Development of the Negev and Galilee, a Likud lawmaker in Israel's Knesset, met with Patrick Brinkmann, a Swedish right-wing extremist who has supported neo-Nazi and right-wing populist parties in Europe, according to a report in the Israeli daily Yediot Acharonot. Brinkmann, 44, who is pushing an anti-Islam agenda, has been reaching out to Israel in recent months, claiming to want to establish a broad-based, far-right movement "without anti-Semitism."
He reportedly met with Kara and other Israeli politicians while in Israel earlier this year. Over the weekend, Kara, representing Israel in Berlin's annual Festival of Cultures, confirmed to Yediot Acharonot that he had met with Brinkmann. Noting that he also had met with other politicians, Kara said Brinkmann's ties with neo-Nazis "do not interest me, it is an irrelevant issue." Brinkmann, who visited Israel with European right-wing populist politicians in February, reportedly has been working to shed the image of anti-Semitism and anti-Zionism associated with the far right in hopes of building a coalition against Islam together with Israeli rightists. Other European right-wing populists, including Dutch politician Geert Wilders, boast allies in Israeli. Wilders featured a member of Israel's nationalist Yisrael Beiteinu party at his Berlin appearance last fall.
Recently, Brinkmann was forced to confront criticism of his outreach to Israel, coming from the populist camp. In an interview conducted during his Israel trip, Brinkmann told the German right-wing populist website, "Freiheitlich.org," that he had gone there "because we have common roots and common problems." At a meeting of the Likud bloc he "was received with friendly applause," he added. Brinkmann withdrew in March as head of the right-wing populist Pro-Deutschland Party after an openly gay politician – Alexander Schlesinger – ran for the party's seat on a regional assembly. Brinkmann said at the time that he rejected "all forms of decadence, support for National Socialism and anti-Semitism" and lamented the failure to create "a common front of all Islam-critical forces."