The new reality is that Turkey has gone over to the dark side, each and every deal with the Turks has to be viewed under that rubric. Continued Turk involvement in NATO should be placed under serious reviewed as well, with it ending in a serious ultimatum, change course or leave the organization. So yes, Avigdor Lieberman is being very prudent here. KGS
The Israeli FM shows just how much patience the Jewish state has with the Turks.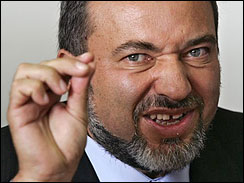 DEFENSE: ISRAELI MINISTERS DIVIDED OVER EXPORTS TO TURKEY
(ANSAmed) – ANKARA, JULY 6 – Israeli Foreign Minister Avigdor Lieberman is reportedly blocking the sale of Israeli-made defense products to Turkey despite recently intensified efforts to get the two countries to reconcile, as Today's Zaman reports quoting The Jerusalem Post. The Israeli Defense Ministry is trying to re-launch the export of defense products to Turkey as part of an attempt to rescue once good ties the two countries enjoyed in the region for decades, but Lieberman, one of the most adamant opponents to Turkish-Israeli rapprochement, is blocking the sale.
The Jerusalem Post claimed on Tuesday that Lieberman and Defense Minister Ehud Barak are at odds over whether Israel should renew defense exports to Turkey, Israeli defense officials informed. The total estimated value of the current military contracts that Turkey has awarded to Israeli companies amounts to 1.8 billion USD. This figure comprises a significant amount of the two nations' total annual trade volume of 2.6 billion USD.
Turkey had cancelled dozens of military agreements, war games and military projects with Israel following a lethal Israeli raid of the Mavi Marmara in May of last year; the ship was carrying humanitarian aid to Gaza to breach an Israeli naval blockade. In May 2007, Prime Minister Tayyip Erdogan visited Israel, which was returned with a visit by Israeli President Shimon Peres in November of that year. After the two visits, Turkey awarded Israel 700 million USD in projects, involving tank modernization and the modernization of 48 warplanes and 300 helicopters.