Leftism on steroids leaves Norway a country of contradictions. KGS
H/T: Norway, Israel and the Jews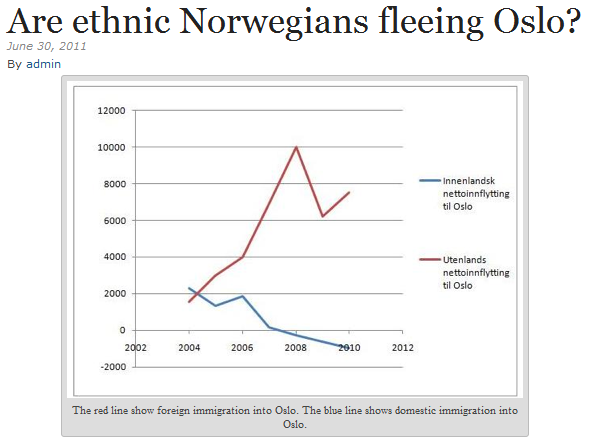 The Norwegian public is encouraged to worry about settlement patterns related to the Israel-Palestine conflict. The fact that statistics indicate that ethnic Norwegians are fleeing Oslo, the public is encouraged to ignore.
The disparity is quite striking. On the one hand, the man in the street is expected to be furious with Jews who dare live in Eastern Jerusalem and the West Bank. It is of paramount importance, we are told, that no Jews live on Palestinian soil. Yet when it comes to foreigners immigrating to Israel and Oslo, the logic somehow changes to "We are all human beings" and "Ethnicity does not matter".
Document.no has published an interesting article, by Christian Skaug, on the changing demographics of Oslo. The article is titled "Oslo quite rapidly taken over by foreigners" and is based on what appears to be solid statistical evidence which show that ethnic Norwegians are leaving Oslo and being replaced by increasing numbers of foreigners.
The statistics used are teased out of SSB (National Bureau of Statistics) reports. Teased, because the SSB will not openly display reports on sensitive issues like this, for fear of creating xenophobia.