This A-hole should be dropped kicked into a command post of the Taliban, his property confiscated, (and of his pals) with the money returned to the US taxpayer. Pull the US troops out, and send in the drones, with limited 'boots on the ground' operations that solely target fundamustard terrorist camps. The US can't be seen as retreating, just realigning its strategy.
Let whoever takeover, then send them to hell when the Intel looks right. Nation building for a bunch of opium growing, goat fondling pedophiles, is not the TT's idea of winning strategy. KGS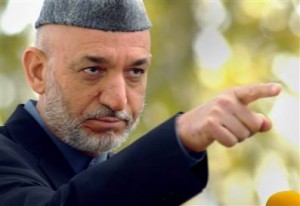 Pakistan, Afghan, Sudan Presidents Attend Tehran-Sponsored Counterterrorism Conference; U.N. Sec.-Gen. Praises Conference; Conference Defines U.S., Israel as Source of Global Terrorism
On June 25-26, 2011, the Iranian regime hosted the first "World Without Terrorism Conference" in Tehran. The conferees included Afghan President Hamid Karzai, Tajikistan President Emomali Rahmonov, Pakistani President Asif 'Ali Zardari, Iraqi President Jalal Talabani, and Sudanese President 'Omar Al-Bashir, as well as representatives from Turkmenistan, Azerbaijan, and Mali. Iranian Supreme Leader Ali Khamenei and President Mahmoud Ahmadinejad both spoke at the conference's opening ceremony.
In his address, Khamenei said that the conference's aim was to clearly define terrorism and to identify its root causes. He pointed to "satanic world powers which use terrorism in their policies and in their planning to achieve their illegitimate goals," specifying that the "Zionist regime" and Zionism in general had from their very beginning perpetuated global terrorism. He went on to say that the U.S., the U.K., and other Western governments had "a black record of terrorist behaviors."