He could be picked up for just being a lousy dresser. KGS
ICC issues arrest warrant for Gaddafi, son, spy chief
By REUTERS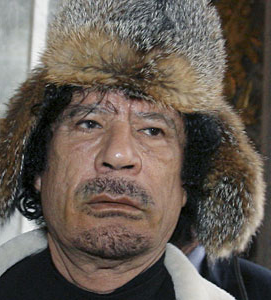 Muammar Gaddafi, son, intelligence chief accused of crimes against humanity; violence expected to increase as Gaddafi clings to power.
THE HAGUE – The International Criminal Court issued arrest warrants on Monday for Libya's Muammar Gaddafi, his son Saif al-Islam and the country's spy chief, Abdullah al-Senussi, on charges of crimes against humanity.
ICC prosecutor Luis Moreno-Ocampo had in May asked the court to issue arrest warrants for the "pre-determined" killing of protesters in Libya following after the UNSecurity Council referred the issue to the court.