This is how Islamic garb should be dealt with, by private rules, if you want to wear restrictive clothing, go ahead, just be prepared to be rejected here and there because of it. The burka is a different story, it's a matter of security, and shouldn't be allowed under any circumstance. KGS
H/T: Vlad
Teen cut from team for wearing her hijab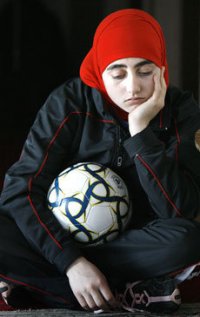 MONTREAL . A Quebec teenager who referees soccer games has been cut because she wears a hijab on the field.
Sarah Benkirane has been refereeing games on Montreal's West Island and in Vaudreuil, Que., further west, for about two years, and was shocked last week to get a call from the Lac St. Louis Regional Soccer Association telling her she was fired.
"It seems so unfair," said Ms. Benkirane, a 15-year-old Muslim who lives in Vaudreuil. "It's always tucked into my shirt, it's not hanging and it's part of my religion. It doesn't make any sense."
But the decision makes sense to the general manager of the association and to the Quebec Soccer Federation, which unequivocally backed the Lac St. Louis decision this week.
"The uniform has to be worn properly, like every other referee," said Edouard Saint-Lo, general manager of the Lac St. Louis association. "It's a shirt, shorts, socks and referee shoes. There's no jewellery, no hijab on the head. You're not even allowed to wear a cap."
Michel Dugas, communications co-ordinator of the Quebec Soccer Federation, said it would be illogical to have a referee wearing a hijab tell players they couldn't play with a hijab.
Furthermore, the Federation Internationale de Foot-ball Association, soccer's international governing body, revisited the hijab issue again just this month and stayed firm on its position that hijabs can't be allowed on the soccer field, he said after the Quebec federation held a news conference Monday to respond to inquiries about Ms. Benkirane's dismissal
"The decision is that players and officials shall not display political, religious, commercial or personal messages or slogans in any language or form," Mr. Dugas said. "That's a very recent decision, and the federation has to respect the rules laid out by FIFA."
Mr. Saint-Lo said the reason Ms. Benkirane was relieved of her duties is not because there was a change to the rules, but because someone finally noticed they were being broken when she wore a hijab as a referee.