The international media will work on this story for a period of 48 hrs or less, then move on. If it were Israel and the Palestinians however, instead of NATO and the Libyans, the bombing would be front page news for weeks. Mark the TT's words, this will be handled as a flash in the pan. KGS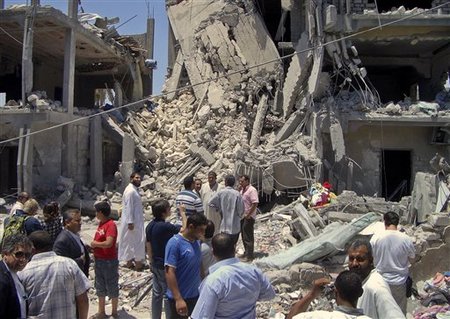 TRIPOLI, Libya (al-AP) – Libya's government said NATO warplanes struck a residential neighborhood in the capital Sunday and killed nine civilians, including two children. Hours later, NATO confirmed one of its airstrikes went astray.
The incident gave supporters of Moammar Gadhafi's regime a new rallying point against the international intervention in Libya's civil war. The foreign minister called for a "global jihad" on the West in response.
Early Sunday morning, journalists based in the Libyan capital were rushed by government officials to the damaged building, which appeared to have been partly under construction. Reporters were later escorted back to the site, where children's toys, teacups and dust-covered mattresses could be seen amid the rubble.
In a statement issued late Sunday at Brussels headquarters, the trans-Atlantic alliance said airstrikes were launched against a military missile site in Tripoli, but "it appears that one weapon did not strike the intended target and that there may have been a weapons system failure which may have caused a number of civilian casualties."